Father Patrick Bataille, Provincial Delegate of the sector of France,
informs you of the return to the Lord of Father
Joseph Olivaud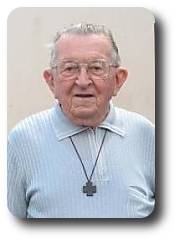 on Friday the 9th of June 2017 at Pau – Billière (France)
at the age of 94 years, of which 67 years of missionary life
in Guinea, Burkina Faso and in France.
Let us pray for him and for his loved ones.
Milestones of Father Joseph Olivaud's life
Joseph was born on the 25th of June at Crossac in Britany (North-Western France), in the Diocese of Nantes.  He joined the Missionaries of Africa and was sent to Maison-Carrée (an area of Algiers) to begin his spiritual year on the 1st of October 1947. He went on with his studies in Carthage (Tunisia) where he took his Missionary Oath on the 30th of September 1949 and was ordained to the priesthood on the 1st of February 1950.
| | | | |
| --- | --- | --- | --- |
| 09/11/1950 | Vicaire | Samoé, P.Nzérékoré | Guinée |
| 29/09/1955 | | Nantes | France |
| 16/12/1957 | | Ste Foy-lès-Lyon | France |
| 15/07/1960 | Supérieur | Nzérékoré | Guinée |
| 02/01/1963 | | Samoé | Guinée |
| 03/09/1965 | | Nantes | France |
| 01/01/1966 | Grande Retraite | Villa Cavalletti | Italie |
| 01/01/1968 | Vicaire | Diebougou,D.Bobo-D. | Haute Volta |
| 10/07/1968 | Econome Intersémin. | Ouagadougou | Haute Volta |
| 15/11/1976 | | Guilongou | Haute Volta |
| 01/01/1977 | Recyclage | L'Arbresle | France |
| 01/06/1978 | Econome | Guilongou CELA | Burkina Faso |
| 01/01/1981 | Vicaire | Kombisri, D.Ouagadougou | Burkina Faso |
| 02/08/1982 | Econome | Billère | France |
| 15/07/1988 | Responsable | Nantes | France |
| 05/06/1990 | Session-Retraite | Jérusalem | Israël / Palestine |
| 01/10/1990 | Supérieur | Bobo-D., Evêché | Burkina Faso |
| 01/06/1992 | Supérieur | Bobo-D., Evêché | Burkina |
| 01/09/1994 | Econome+Accueil | Bobo-D., Evêché | Burkina |
| 19/04/1999 | Nommé France | | |
| 05/08/1999 | Econome | Paris,Printemps | France |
| 01/07/2000 | Socius | Toulouse,Crampel | France |
| 10/04/2003 | Résidence | Billère (Pau) | France |
| 09/06/2017 | Retour au Père | Billère (Pau) | France |