Here is a reflection by Georges Paquet, formerly a Missionary of Africa in Tanzania, living now in Pau-Billière, on Holiness.
"To be holy, it is not necessary to be a bishop or religious. (Francis, in "Gaudete et exsultate", quoted by "La Croix" of 19.07.18, who points out that our pope says not to forget young people like that young Neapolitan who will be "saint" on 14.10 with, finally, Oscar Romero, because the martyrs do not need to "perform a miracle"!)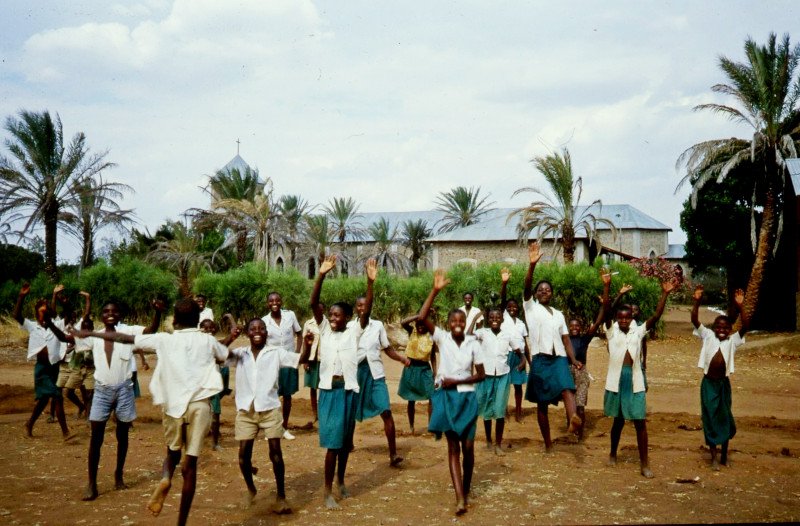 At the beginning of this century, I wonder why this search for "miracles" declared by the bishops, after a long and costly investigation, when one can only say that, for the moment, science cannot explain what happened to this or that person. For me, if our founder made a "miraculous" or rather revolutionary sign, it was when he asked the first missionaries to dress like local people and not like priests! (1). I myself have already received a letter from Saint Simeon Lourdel (2)… My aunt Marinette Dumaine (sister Marie de Valfleury), born 11.11.1918 entered the White Sisters in 1942; she died of tuberculosis in Birmandreis on 25.09.43, at the age of 24, like Thérèse of Lisieux… I couldn't count all the signs of her presence that we attribute to her in my family, but nobody would have the idea to go and tell them, we don't have the means to pay for these investigations.
I was born on 06.08.1943 and at 10 years old, I was reading in "Spirou" the story of Stanley's expedition, an American explorer (3) through the country that would later become Tanzania – I went there from 1971 to 1998, where I did not become a "miracle worker". (4) For me, a saint is anyone who is alive or already on the way to Life (Eternal Life, that is note of webmaster), who helps me to find in myself the forces that I do not yet exploit, who helps me to "stand up" in difficult times, but first I go to Jesus: "I have come that you may have Life and that you may have it abundantly" (Jn 10:10).
All popes will be "canonized" now, so why not the cardinals…
____________________________
Notes et Bibliographie
1. Clothes don't make the monk (title of P.E.) – Petit écho Nr 1044- 2013/08 p.490-491.
2. Petit écho Nr 814 1999/9 p. 455.
3. Un autre américain, Saint Stanley Rother, martyr in Guatemala on 28.07.1981.
4. A good pastor… (title of P.E.) Petit écho Nr 1090 2018/04 p.212-213.
« Maurice andThérèse, the story of a love », Patrick Ahern – Plon 1999 : « Today, many people visit his grave ( of Mr. Bellière), pay tribute to him and pray to him. » p.282 (see Petit écho Nr 1093 – 2018/07 p. 428-439) « The just will grow like a palm tree » Gérard Berlier, Vie Chrétienne 2003 : « knowing our strengths helps us to love, to develop new ways of being… » p.136
«The powers of the mind over the body» Patrick Clervoy / O.jacob 2018 Psychiatrist P. Clervoy wants to show how the human must be put back at the centre of the medical equation instead of machines, distinguishing between to heal and to be healed.
Georges Paquet in Billère,
Feast of the Transfiguration of the Lord, 6 August 2018 .