On 14th January 2018 it was a remarkable and unforgettable day in the life of the Missionaries of Africa in Ethiopia. It was on this day that they celebrated the 50th anniversary of their presence in Ethiopia. The celebrations started with Holy Mass which was presided over by Abune Tesfasellassie Medhin, the Eparch of Adigrat, surrounded by the Missionaries of Africa and many priests and religious working in the Eparchy of Adigrat.
The Missionaries of Africa came to Adigrat in 1967 in response to the Bishop of Adigrat Diocese, Abune Hailemariam Kahsay's invitation to assist in the formation of the local clergy. Since then a good number of Missionaries of Africa have been teaching at the major seminary of Adigrat in both philosophy and theology departments.
With time, the Missionaries of Africa extended their apostolate to various fields including; interreligious dialogue and ecumenism, Education(St Mary's College in Wukro), Justice and Peace and Integrity of creation, street children and orphans, youth ministry, girls/women promotion, vocation promotion and university chaplaincy.
The Missionaries of Africa who have served in Ethiopia.
The Missionaries of Africa who have served in Ethiopia so far include :Max Gmur, Gildas Nicolas, Kevin O'mahoney, José Bandres, Gerry Stones, Dietmat Lenfers, Friedrich Stenger, Angel Olaran, Stolarski Krzystof, Ian Buckmaster, Eddie Ndahinda, Gaetano Cazzola, Jean Pierre Roth, Gerry Murphy, Aloysius Beebwa, Everisto Mwelwa, Sabu Puthenpurackal, Bonaventure Mashata, Cor de Visser, John Amona, Belete Fanta, Gazena Haile, Stephane Zoungrana, Bonaventure Bwanakweli, Yosef Giday, Paul Reilly, Apollinaire Chishugi and Clayb Caputolan.
As we celebrate 50 years of our presence in Ethiopia, we are happy to announce that we have 6 ethiopian confreres : Yosef Giday working in Kombolcha, Belete Fanta working in Adigrat, Gazena Haile working in Ghana, Simeon Kalore working in Malawi, Addise Markos working in Nigeria and Deacon Mekonen Girmay in Nairobi. We also have 8 Ethiopian students in different houses of formation (Kenya, South Africa, Tanzania and Ethiopia).
The message from the Bishop of Adigrat : Abune Tesfaselassie Medhin
In his speech the Bishop of Adigrat sincerely thanked the Missionaries of Africa for their various contributions in the life of the Eparchy for the past 50 years of their presence. He emphasised on their hard work and dedication in the formation and teaching at the Major Major Seminary. He also praised the courage and resilience of the first missionaries especially when the conditions were tough in the country. He also praised other apostolic activities initiated by the Missionaries of Africa in St Mary's Wukro, Bruh Tesfa Youth Development Centerin Adigrat, Kidist Mariam, St Paul's Formation House and Kombolcha.
The Bishop went on to remind the Missionaries of Africa that for the future it will be important to stick to their charism and identity so as to make a unique impact in the Eparchy especially by adapting their charism and apostolic engagements to the current realities and challenges of today's society. In a special way, the bishop insisted on the formation of young people and families. These two areas seem to be very important for our evangelization today in Ethiopia and in Africa as a whole.
The Message from EPO Delegate Superior
In his message, EPO Delegate Superior (Father Bonaventure Bwanakweri) mentioned that the celebration of the 50 years is a time to look at our past with gratitude and thank God for the many blessings showered upon us and the Eparchy of Adigrat. It is also time to live the present with great passion in our various apostolates and also to plan for the future with more determination, enthusiasm and hope. He thanked the Eparchy for its support, care and collaboration. He thanked all the priests and religious working in Adigrat for their proximity and pastoral generosity. He also thanked all the faithful of the Eparchy. He also extended a word of gratitude to the Ethiopian Orthodox church and to the Muslims with whom we always work for peaceful cohabitation.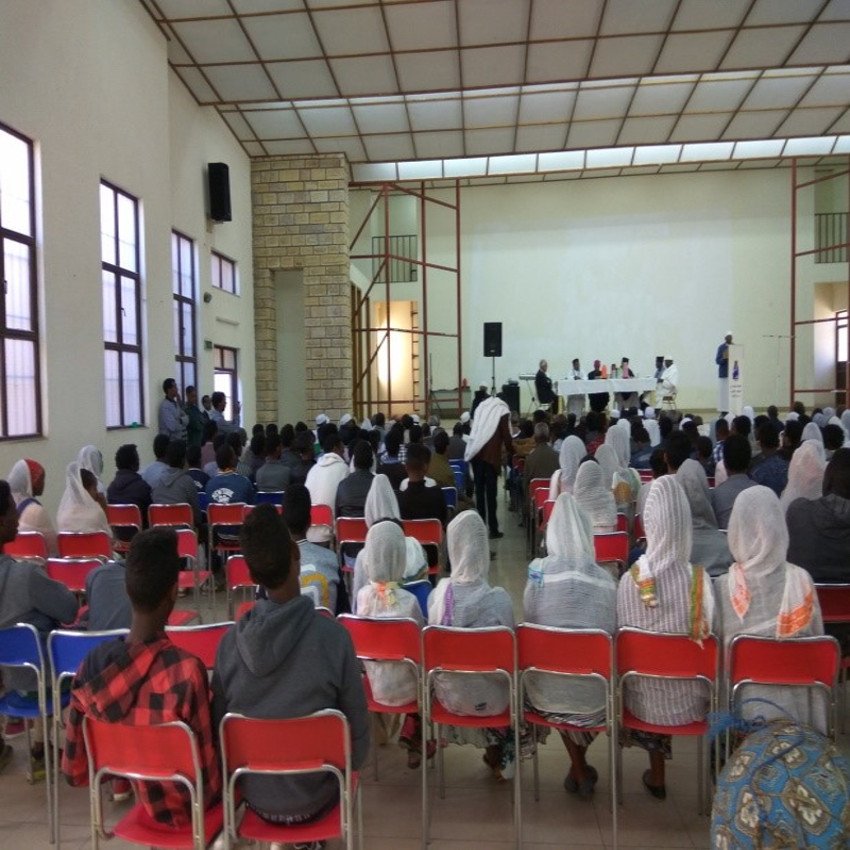 Fr Bonaventure BWANAKWERI, M.Afr.