Father Helmut Revers, Provincial Delegate of the sector of Germany,
informs you of the return to the Lord of Father
Helmut Huber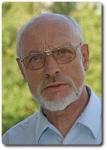 on Friday the 19th May 2017 at the Hospital of Bad Aibling (near Munich)
at the age of 75 years, of which 49 years of missionary life
in Tanzania, Kenya and Germany.
Let us pray for him and for his loved ones.
Milestones of Father Helmut Huber's life
Helmut Huber was born at Amberg, in the Diocese of Regensburg in Bavaria (Germany). He began his spiritual year with the Missionaries of Africa on the 15th of August 1963 at Hörstel (Germany), continued with his studies of theology at Totteridge (Great Britain) where he took his Missionary Oath on the 25th June 1967 before being ordained to the priesthood in his native land of Regensburg on the 29th June 1968.
 

| | | | |
| --- | --- | --- | --- |
| 01/09/1968 | Stay at | Sutton Coldfield | Great Britain |
| 21/04/1969 | Appointed to | Cologne | Germany |
| 01/09/1972 | Language course at the  CELA | Kipalapala (Tabora) | Tanzania |
| 01/04/1973 | Curate | Mbeya | Tanzania |
| 01/09/1977 | Curate | Mkulwe | Tanzania |
| 01/06/1982 | Superior | Munich | Germany |
| 01/07/1987 | Appointed: PE.87/7 |   | Tanzania |
| 01/02/1988 | Curate | Eastleigh (Nairobi) | Kenya |
| 01/09/1994 | Curate | South B (Nairobi) | Kenya |
| 01/01/2001 | Dialogue with Islam  | Wete/Pemba (Zanzibar) | Tanzania |
| 01/12/2003 | Parish Priest |   |   |
| 18/03/2005 | Returns to his Province  | Nürenberg | Germany |
| 11/05/2005 | Session 60+ | Rome | Italia |
| 18/05/2005 | Appointed (PE2005/06) |   | Germany |
| 01/03/2006 | Ministry | Munich | Germany |
| 22/12/2006 | Superior | Munich | Germany |
| 03/10/2012 | Session Senior | Rome | Italia |
| 19/05/2017 | Returns to the Father | Bad Aibling | Germany |