Father Jozef de Bekker, Provincial Delegate of the sector of the Netherlands,
informs you of the return to the Lord of Father
Jan Bruijns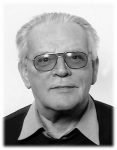 on Wednesday the 31st October 2018 at Heythuysen (The Netherlands)
at the age of 78 years, of which 53 years of missionary life
in Mali and in the Netherlands.
Let us pray for him and for his loved ones.
Download here the annoucement of Father Jan Bruijns' death
Milestones in the life of Father Jan Bruijns
Jan was born on August 10, 1940 in Gilze in Rijen, in the diocese of Breda in the Netherlands. He entered the White Fathers novitiate in Dorking, south of London, on September 8, 1961. He continued his theological studies in Le Puy, France, where he took his missionary oath on June 28, 1965. He was ordained a year later, on July 2, 1966, in his native diocese of Breda.
| | | | |
| --- | --- | --- | --- |
| 01/09/1966 | Stage de Pastorale | Mours | France |
| 30/06/1967 | Vicaire | Tominian, Diocèse de San | Mali |
| 01/09/1971 | Vicaire | Mandiakuy | Mali |
| 01/04/1974 | | Bamako | Mali |
| 01/12/1974 | Procureur+Sec.C.E. | Bamako, Cathédrale | Mali |
| 17/07/1995 | Retour:Serv. C.Epis. | Bamako | Mali |
| 01/12/1996 | Econome C.E.M. | Bamako | Mali |
| 09/03/1998 | Retour en Province | | Nederland |
| 01/07/1998 | Econome Provincial | Boxtel,Mais.Provinc. | Nederland |
| 01/07/1998 | Nommé Ned.(P.E.98/6) | | Nederland |
| 01/07/2002 | Residence | Dongen | Nederland |
| 01/10/2008 | Residence | Heythuysen | Nederland |
| 31/10/2018 | Retour auprès du Père | Heythuysen | Nederland |