Father Luc Putzeys, Provincial Delegate of the sector of Belgium,
informs you of the return to the Lord of Father
Jan Knoops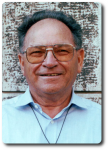 on Tuesday the 21st of March 2017
at the nursing house St Joseph at Munsterbilzen (Belgium)
at the age of 85 years, of which 59 years of missionary life
in Congo and in Belgium.
Let us pray for him and for his loved ones.

Milestones of Father Jan Knoops' life
Jan Knoops was born on the 20th October 1931 at Opglabbeek, in the Diocese of Hasselt, in Belgium. He started his Spiritual Year on the 7th of September 1953 in Varsenare, went on with his studies in Heverlée, where he took his Missionary Oath on the 6th of July 1957 and was ordained to the priesthood on the 6th of Avril 1958.
| | |
| --- | --- |
| 26/03/1959 | Ass. Parish Priest at Kabare (Congo) |
| 01/01/1962 | Ass. Parish Priest at Mwanda (CO – Bukavu) |
| 01/01/1963 | Ass. Parish Priest at Kabare (CO) |
| 01/04/1964 | Ass. Parish Priest at Katana (CO) |
| 15/09/1965 | Ass. Parish Priest at Kabare (CO) |
| 01/09/1967 | Réfugié à Mweso (CO – Goma) |
| 01/09/1968 | Ass. Parish Priest at Mbagira (CO – Bukavu) |
| 14/02/1970 | Grande retraîte at Villa Cavaletti |
| 01/07/1970 | Ass. Parish Priest and then superior at Ciherano (CO) |
| 01/09/1976 | Ass. Parish Priest at Murhesa (Zaïre) |
| 29/09/1983 | Session-retreat at Jérusalem (Israël – Palestine) |
| 11/12/1987 | Ass. Parish Priest – Fondation Mubumbano (ZA SE – Bukavu) |
| 01/05/1998 | Constructions Kalemie Christ-Roi (CO SE) |
| 01/01/1999 | Constructions Lubuye (CO SE – Kalemie) |
| 01/11/1999 | Constructions Kalemie Christ-Roi (CO SE) |
| 23/11/2000 | Ass. Parish Priest at Burhiba (CO SE) |
| 10/09/2003 | Session 70+ à Rome |
| 01/01/2004 | Ass. Parish Priest at Murhesa (CO SE) |
| 10/05/2008 | Constructions and ministry at Buthiba (CO SE – Bukavu) |
| 01/11/2010 | Ministry  at St Paul Bukavu (CO SE) |
| 01/12/2015 | Return to Belgium for treatment |
| 21/03/2017 | Return to the Father at Munsterbilzen |