The Provincial of France, Father Patrick Bataille,
informs you of the return to the Lord of Father
Jean-Claude Quennouëlle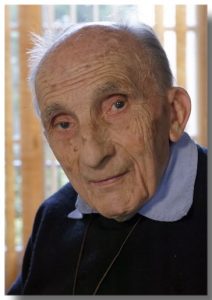 on Thursday the 12th of January 2017 in Paris (France), at the age of 88,
of which 65 years of missionary life
in the DR Congo and in France.
Let us pray for him and for his loved ones.
Milestones of Father Jean-Claude Quennouëlle's life.
Father Jean-Claude Quennouëlle was born in Paris XVI (Diocese of Paris) on the 2nd of July 1928. He began his Spiritual Year at Maison-Carrée on the 1st of October 1947, took his Missionary Oath in Thibar on the 26th of June 1951 and was ordained to the Priesthood in Carthage on the 12th of April 1952.
| | | | |
| --- | --- | --- | --- |
| 02/10/1952 | Etudes | Strasbourg | France |
| 06/06/1956 |   | Bonnelles |   |
| 18/09/1965 | Grande Retraite | Villa Cavalletti |   |
| 01/03/1966 | Supérieur P.Sémin. | Fataki | Congo |
| 01/09/1974 | Délégué au Chapitre |   |   |
| 01/01/1979 | Supérieur 1er Cycle PB | Bambumines |   |
| 10/11/1981 |   | Bunia,Mudzi Maria |   |
| 01/05/1984 | Père/Foyer Charité | Muhito,D.Bunia | Zaïre Ituri |
| 22/09/1988 | Congé/Prov.>17.11.88 |   |   |
| 03/09/1990 | Congé/Prov.>12.11.90 |   |   |
| 16/09/1992 | Congé/Prov.> |   |   |
| 26/05/1993 | Congé/Prov.> |   |   |
| 13/05/1995 | Congé/Prov.>05.08.95 |   |   |
| 13/12/1996 | Evacué par Kampala-> |   | France |
| 14/05/1997 | Retour au Zaïre |   |   |
| 10/05/1998 | Congé/Prov.>10.07.98 |   |   |
| 14/08/1999 | Congé/Prov.>15.10.99 |   |   |
| 02/05/2001 | Congé méd.>30.07.01 |   |   |
| 22/05/2002 | Congé/Prov.>10.07.02 |   |   |
| 01/06/2003 | Congé/Prov. |   |   |
| 10/02/2004 | Congé/Prov.>15.06.04 |   |   |
| 30/05/2006 | Congé/Prov.>12.03.07 |   |   |
| 04/05/2008 | Congé/Prov.> |   |   |
| 01/07/2009 | Congé/Prov.>14.09.09 |   |   |
| 12/01/2017 | Décède à Paris |   |   |
| | | | |