Father Luc Putzeys, Provincial Delegate of the sector of Belgium,
informs you of the return to the Lord of Father
Marcel Peeters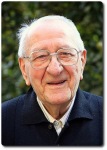 on Friday the 12th May 2017 at Antwerpen (Belgium)
at the age of 91 years, of which 67 years of missionary life
in Burundi and Belgium.
Let us pray for him and for his loved ones.
Milestones of Father Marcel Peeters' life
Marcel was born on the 5th of July 1925 at Vremde in the diocese of Antwerpen. He joined the Missionaries of Africa and began his spiritual year on the 22nd of September 1945 at Varsenare. He took his Missionary Oath on the 21st of July 1949 at Heverlee where he was ordained to the priesthood on the 8th of April 1950.
| | | | |
| --- | --- | --- | --- |
| 01/09/1950 | Military Service |   | Belgium |
| 05/01/1951 |   | Katara | Burundi |
| 23/04/1951 |   | Musenyi (Ngozi) | Burundi |
| 26/12/1951 |   | Buraniro | Burundi |
| 19/01/1960 | Long retreat | Villa Cavalletti | Italie |
| 01/09/1960 |   | Katara | Burundi |
| 10/12/1960 | Superior | Buraniro | Burundi |
| 02/03/1962 |   | Muramba | Burundi |
| 10/05/1962 |   | Kisanze | Burundi |
| 24/01/1963 |   | Katara | Burundi |
| 01/01/1965 |   | Kasenyi | Burundi |
| 05/07/1965 | Superior | Muhanga | Burundi |
| 30/06/1968 |   | Gatara | Burundi |
| 01/09/1968 | Assistant Parish Priest | Ijene | Burundi |
| 30/06/1970 | Superior | Ijene | Burundi |
| 01/01/1979 | Assistant Parish Priest | Buraniro | Burundi |
| 26/09/1979 | Session-Retreat | Jérusalem | Isarël / Palestine |
| 01/06/1980 | Assistant Parish Priest | Gatara (Mubuga) | Burundi |
| 12/06/1985 | "Expelled" from Burundi |   | Burundi |
| 01/01/1986 | Assistant Parish Priest | Antwerpen | Belgium |
| 09/12/1990 | Assistant Parish Priest | Ijene (Ngozi) | Burundi |
| 01/10/1993 | Community of | Giharo (Ruyigi) | Burundi |
| 15/12/1993 | Assistant Parish Priest | Ijene (Ngozi) | Burundi |
| 01/08/1997 | Replacement P.Lesay | Gitega | Burundi |
| 15/10/1998 | Assistant Parish Priest | Monast.Rweza (Ngozi) | Burundi |
| 15/08/2003 | Return to Province | Antwerpen | Belgium |
| 10/09/2003 | Session 70+ | Roma | Italie |
| 05/11/2003 | Appointed (PE 10/03) |   | Belgium |
| 04/01/2016 | Residence | Antwerpen – O.L.Vrouw | Belgium |
| 12/05/2017 | Returns to the Father | Antwerpen | Belgium |