I, Eze Francis Nchekwubechukwu began my initial formation with the Society of the Missionaries of Africa in February 2009. It was for me a moment of great joy taking a concrete step in actualizing my ultimate dream of serving God and humanity. However, it was also for me a moment characterized by the feelings of anxiety and uncertainty. I was a young man with lots of prospects. As such, I questioned the option I was making and its consequences. I was leaving my home, family, friends, motherland and culture in order to embrace something relatively new.
In brief my formation program has been thus far: five months preparatory session in Morin House in Tamale Ghana. Three years of Philosophy at St Martin of Tours Formation House, Ejisu, Ghana. A year of spiritual formation at our Spiritual Formation Centre in Kasama, Zambia. Two years of pastoral experience (stage) at Notre Dame de l' Assomption Parish in Korhogo, Ivory Coast. Presently, I am in South Africa studying Theology, and this is the fourth year of my final phase of initial formation.
Looking back I cannot but be grateful to God Almighty for the gift of my life, my Christian faith and my missionary vocation. Thus far, the time and process of my initial formation have been fruitful, even though, they were long, rigorous and sometimes painful. Without a doubt the Society of the Missionaries of Africa does have a good formation program and structure that seek the holistic and authentic human development of her candidates.
According to a personal observation, our missionary formation program is comparatively different from that of many religious institutions in the sense that the missionary candidates are truly at the heart of their own formation. Consequently, our formation program produces matured confreres and confreres who are convinced in what they do. Something worth applauding is the fact tat all levels of my initial formation, it was quite observable that candidates were well taken care of, especially their basic needs. "Behold how good and pleasant it is for brothers to dwell together in unity" (Psalm 133:1). Remarkable in our missionary formation program, is our identity as an international and intercultural apostolic society. This aspect of our community life, is for me, a true witness to the mission of Christ vis-à-vis an egoistic world. Besides our community life, a life of prayer is at the heart of our missionary formation program. A missionary ought to be a man of God for he cannot offer that which he possesses not. Upon a life of prayer depends in great deal the success of the mission entrusted to us.
Hence, our missionary formation aims at producing men of God. To this end, much investment has been made in our formation program to ensure that future missionaries do have an interpersonal relationship with God. My experiences in initial formation have not been exceptionally pleasant. There have also been challenging moments and experiences. One of such challenging experiences is the fact that I have come across a good number of confreres who were prejudiced about certain group of people and nationalities. It is so sad and painful that among faith communities, people are neither treated as unique individuals nor judged by their way of life. Being born a member of a particular group of people is a thing of fate and not a thing of choice. This is a fact we ought to know.
Having been in formation for ten years, I am most certain that life is not void of challenges. In this regard, what differentiates me as a missionary from a layman is that I confront life's situation with faith. Over these years, there were moments when life's challenges compelled me to speak to a friend, my spiritual director and to God in prayer. There were also moments when I just have to cry. But in the midst of all life's challenges, I have never lost sight of God who has called me, nor regretted saying yes to his call. The good news here is that my good Lord has never and will never desert me.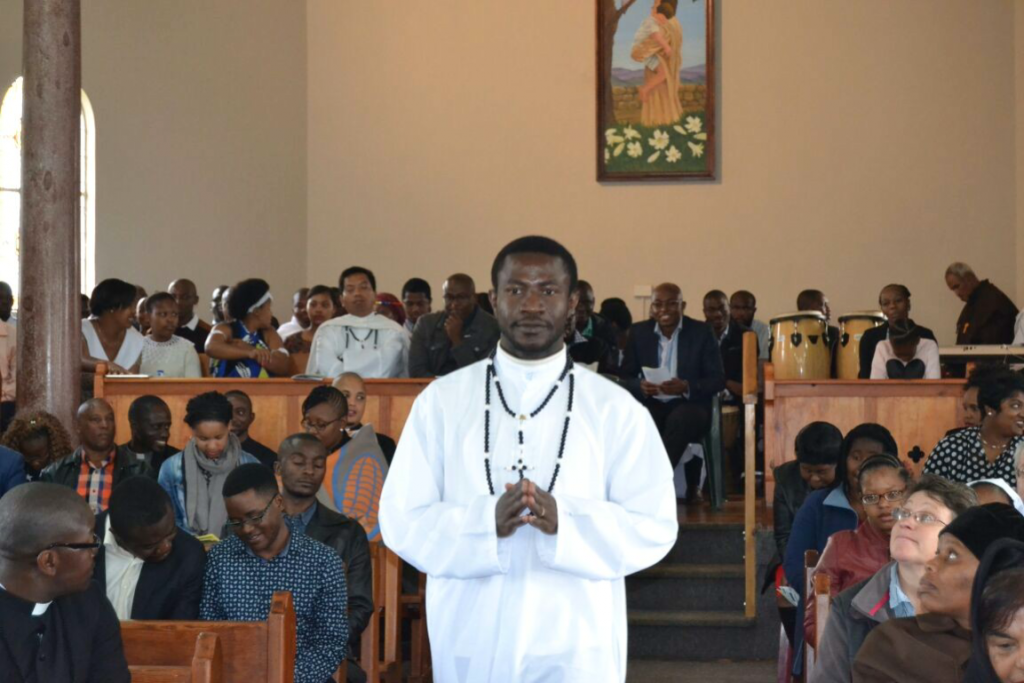 In conclusion, I like to echo the following key points. Firstly, candidates in initial formation are at the heart of their formation program. Secondly, the missionary formation is a two-way traffic in the sense that candidates undergoing formation must also allow formation to pass through them.
hirdly, the missionary formation is a lifelong process. Hence, after initial formation, there is an ongoing formation. Fourthly, the missionary vocation is a joyful vocation especially when prayerfully discerned. Finally, I will like to say that I am very happy especially by my rich experience since I began my initial formation in 2009.
Francis Eze, M.Afr  
(Merrivale, South Africa)
(a testimony taken from the Ghana-Nigeria Link)