The Missionary Sisters of Our Lady of Africa
invite you to share their hope and to pray for
Sr. Simone Gauthier (Sr. Paul Émile)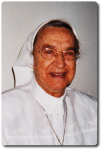 Born in the Diocese of Joliette
and a member of the Community of the Infirmary at Beauport (Qc.),
she entered into Fullness of Life on the 30th of December 2017
at the Infirmary of the Sisters of Charity of Quebec, Beauport (Qc.)
She was 95 years of age
and was in her 69th year of Missionary Religious  life.
Her religious life unfolded
in Zambia, in the United States and in Canada.