Father Patrick Bataille, Provincial Delegate of the sector of France,
informs you of the return to the Lord of Father
Henri Maurier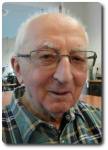 on Tuesday 28th March 2017 at Billière (France)
at the age of 95 years, of which 69 years of missionary life
in Burkina Faso, Belgium, Italy, Algeria and France.
Let us pray for him and for his loved ones.
Milestones of Father Henri Maurier's life
Henri Maurier was born in Angers (in the Diocese of Angers, France) on the 9th of June 1921. He entered the Spiritual Year on the 1st of October 1941 at Maison Carrée in Algeria, went on with his training at Thibar, in Tunisia, where he took his Missionary Oath on the 28th of June 1947 and was ordained to the priesthood on the 2nd of February 1948.
| | |
| --- | --- |
| 01/09/1948 | Teacher in Bonnelles (France) |
| 24/08/1955 | Arrives at Koumi (Upper Volta) |
| 31/08/1956 | Assistant Parish Priest at Boulsa then at Manga (UV) |
| 17/07/1957 | Professor of Philosophy at Pabre (UV) |
| 04/08/1960 | Missionary animation in Nantes (France) |
| 06/01/1961 | Long retreat at Villa Cavalletti (Italy) |
| 12/09/1961 | "Service missionnaire des jeunes" at Ste Foy-lès-Lyon (FR) |
| 17/09/1964 | Studies-retraining in Paris, community Friant (FR) |
| 10/07/1965 | Retraining in languages at Ouagadougou (UV) |
| 30/06/1966 | Animation of the confreres in Ouagadougou (UV) |
| 26/09/1967 | Visiting Professor at the Major Seminary of Koumi (UV) |
| 30/12/1967 | Assistant Parish Priest at Kombissiri (UV) |
| 30/06/1970 | Professor at Lumen Vitae in Brussels (Belgium) |
| 01/08/1974 | Visit of Rwanda |
| 01/02/1976 | Visit of West Africa |
| 01/07/1978 | Professor at the Catholic Institute of Paris (FR) |
| 01/05/1983 | Superior in Mours (FR) |
| 08/10/1985 | Librerian at M.G. Rome (Italy) |
| 01/101995 | Sabbatical year |
| 01/07/1996 | Appointed to OL of Africa in Algiers (Maghreb) |
| 26/05/2008 | Appointed to the Province of Europe (FR) |
| 01/01/2009 | Residence in Mours (FR) |
| 01/09/2010 | Residence in Bry-sur-Marne (FR) |
| 07/03/2011 | Residence in Chevilly-Larue (FR) |
| 01/09/2012 | Residence in Billière (FR) |
| 28/03/2017 | Return to the Father at Billère (FR) |