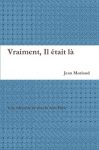 Auteur : Jean Moriaud, 
Titre du livre : Vraiment, il était là,
Sous-titre : Une relecture de ma vie avec Dieu,
Edition 2017, 183 pages.
Here is a passionate little book! For Jean, the definition of mission is, "Always 'living with' and to be interested in people so that they become more interested in others and, if possible, in God." Our confrere has spent 22 years in Burkina Faso and 10 years in Chad and is a born storyteller. He has a great gift for observation and humour, a big heart and he likes to showcase the wonders that the Lord does in others. This review of his life is like an ode to the Holy Spirit. He talks about it with humility and level-headedness. We can see his humanity, his interest in peoples and their cultures, his concern to find, with them, solutions to their problems and to improve relationships among themselves in order to grow together in their daily and Christian life.
This attitude earned him the trust of the traditional authorities as well as those in the administration, which was very useful when he launched himself into development projects with the local people beginning with the youth. He did not theorise about dialogue with African Traditional Religion, but his everyday life as a pastor meant that he was in a constant state of encounter. Thus, the trust established with the elders will help him to get the projects proposed by the young people to be accepted by the local leaders. This happened whether it was the creation of a group of traditional dancers, initiation into local crafts, the establishment of a training centre for blind people or a model village for young farmers. He was also involved in the inculturation of the Easter Liturgy.
He did not theorise either about JPIC. However, when he encountered a problem which touched on the health of the local people or a balanced diet for them, he mobilised everybody. This meant teaching blind people to plant onions and the populace to build wells or manage the use of local springs.
Jean's pastoral activities touched on the sufferings of the people such as the death of Kizito, a young boy, as the result of a botched initiation and questions linked to the exodus of young people to Abidjan. Here we have a patient work of formation and support for catechists, those in charge of communities or youth movements.
All this was carried out in a spirit of thanksgiving and enthusiasm which surrounded these fruitful years which went hand in hand with a deep prayer life. Certainly, his joy at sharing these beautiful offerings do not leave much space to talk to us about the failures, the community problems or the gloomy bits of his life that he prudently does not mention. But there it is; it is more of a Magnificat than a De profundis. I recommend this book to those confreres who "do not wish to be appointed to a 'bush' parish!"
Bernard Ugeux, M.Afr.