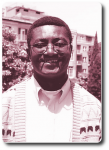 Dear confreres, stagiaires and friends,
It has been ten years since our brother, Fr. Martin Addai, left us to the Father's abode. As the formation house where Fr. Martin spent his final days in the mission, we wish to invite you all to join us on the 10th of March 2017, in commemorating his departure from this world.
On Friday, 10th of March 2017 here in the Formation House, Nairobi, the confreres working in Nairobi, the Missionary Sisters of our Lady of Africa (MSOLA) and the Friends of late Martin Addai shall be joining us in the thanksgiving Eucharistic celebration.
We want to thank God for the many years that our brother dedicated to service in God's vineyard as a priest, formator, friend, lecturer and brother. In our prayers, we also remember all those who still need healing, regarding the tragic circumstances in which he was killed here in Nairobi.
We wish you all a fruitful celebration. May the Soul of late Martin Addai Rest in Perfect Peace.
Yours Fraternally,
Communication Team, Nairobi