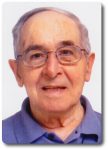 Firmin was born on the 9th June 1929 in St. Trond, Limburg Province, Belgium. His father died when he was eight years old. His mother ran a small business to make ends meet. Firmin went to school at the famous college of his native town. His elder brother had joined the Diocesan seminary. In September 1948, Firmin joined the White Fathers. He studied philosophy at Boechout followed by novitiate in Varsenare. He studied Theology in Heverlee where he took his Missionary Oath on the 10th July 1954 and was ordained to the priesthood on the 10th April 1955. His professors described Firmin as being a fine fellow, having a balanced judgement, a strong will with a tendency to be too radical. He was described as being courageous as well as a hard worker. He was a private but cordial person even if he could be reserved in community. He was of average intelligence but he was gifted artistically with a talent for music and painting. He could be headstrong. During all these years, he suffered from headaches but never complained.
Fr. Van Haelst was appointed to the Vicariate of Kasongo in what was then the Belgian Congo. He left with Sobelair on the 8th April 1956. His first appointment was to the Junior Seminary of Mungombe where he replaced the bursar and taught Greek, Latin and Dutch. He also got down to learning Swahili. During the holidays, he helped in parishes. It was an enriching experience but he was somewhat disappointed because the spiritual exercises were only followed in a few places. He left for a prolonged home leave in 1961 because of tensions in Maniema. On his return, he filled in temporarily in Shabunda before returning to Kasongo to take charge of catechises. During the Simba rebellion of 1964-1965, he was evacuated and only returned to Kasongo in May 1965. In October 1967, Firmin was appointed Parish Priest at Kalima. In February 1969, he returned to the town of Kasongo as Director of the College St.Louis (College Mala). Nineteen seventy-four saw the onset of zaïrianisation and Firmin took time out for some home leave and recycling. He returned in 1975 as Parish Priest of Kipaka. Community relationships were difficult and finally Firmin had to leave. The Assistant Regional at the time described Firmin as the "victim of a real injustice." In October 1978, he was asked to return to Kasongo. He was appointed Parish Priest of Lulingu at the beginning of 1981. He followed the Session/Retreat in Jerusalem in 1987 and in 1991; he was elected Regional Councillor. Many times during these years, he had to return to Europe for medical treatment. Maniema was physically very demanding on him and in a report of the Regional team, we read, "Firmin is very idealistic, he sometimes soars in a world of ideas and dreams. He is a man of prayer, dreaming of a semi-contemplative community." He was advised to profit from a stay in Europe to become acquainted with spiritual accompaniment.
When he returned to the Congo, Firmin was asked to leave the Diocese of Kasongo after 35 years of presence there. In May 1992, he was appointed as Spiritual Director of the Pastoral Centre 'Maria Mama' at Buhimba in the Diocese of Goma. The Centre is situated in a magnificent setting on the shores of Lake Kivu. He worked for a time with Adrien Laur (+2000). In May 1993, he was put in charge of the community. He was also a member of the team responsible for the Ongoing Formation of the confreres. He gave retreats and spiritual accompaniment. Firmin talked about this period as the best time of his missionary life. On the 1st March 1994, Firmin had to leave once more for Europe for health reasons. In fact, it was his definitive departure. In December, his mother died at the age of 95 years.
Firmin continued to look for his spiritual way. He got to know the Petites Sœurs de Bethléem et de l'Assomption in the Chartreuse Mountains near Grenoble. In fact, their Superior General proposed that he join the Monastère de Notre Dame de Clémence at La Verne in the Maures Massif near Collobrières (Toulon) as they had need of a pastor. This he did on the 15th November 1994. The sisters followed the Rule of St. Bruno, the Founder of Chartreux and they follow the Oriental Rite. They get up at 4 o'clock in the morning to recite the Office. They numbered only about 20 and each one lives alone in her personal hermitage. Firmin stayed in a converted container outside the cloister and his only duty was to celebrate the Eucharist without commentary. In October 1995, he was officially appointed to France. He has happy to continue his missionary life in a way that became more and more contemplative. Nevertheless, the solitude and isolation did weigh him down, as he lived far from anywhere and without any transport. He kept up a sporadic contact with the confreres at Frejus. In May 2000, he moved to the Chartreuse Notre-Dame des Prés at Neuville-sous-Montreuil. The regime here was much less austere and there was a much frequented spiritual centre. In November 2002, he moved once again, this time to the Monastère de Bethléem, also called the Monastère de Notre-Dame de Pitié, at Mougères near to Caux to continue his humble life of service. However, he only stayed there for a few months, as his health could not support the austere life.
Firmin returned to Belgium in October 2003 and joined the community at Evere. He was very happy when the Provincial at the time drove him to visit the Monastère de Bethléem (Notre-Dame du Fiat) at Opgrimbie, where he knew some of the sisters who had come from France. His room at Evere was full of icons and one could feel that the liturgy was for him at the heart of the day. He continued his spiritual searching, living a little bit apart from the community, very discretely but still a smiling, charming, considerate and gentle confrere. He had already spent a month in hospital where he died on the 4th November 2016, alone, no doubt like Jesus at Gethsemane, but in peace. He was buried among his confreres at Varsenare.
Jef Vleugels