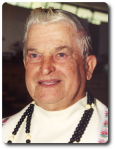 Renaud was born on the 21st July 1924 at St-Isidore d'Aukland in the Diocese of Sherbrooke, Quebec. Canada. He attended the convent primary school in Martinville before going on to the St-Charles Borromeo Seminary for his secondary school education. He entered the postulancy of the White Fathers at Everell on the 4th September 1947 where he did his first year of Theology. It was noted that he had a practical judgement rather than a speculative one. He showed great loyalty to his fellow students, was straightforward in manner and had a solid piety. On the 2nd August 1948, he entered the novitiate at Saint-Martin de Laval where the staff remarked on his liking for manual work and his spirited will. He was small in stature but robust and he was not afraid to make a big effort in order to succeed in what he was doing. He did his final years of theological studies in Eastview where he was able to deepen his missionary vocation. He could be very attached to his own ideas but he was always ready to be of service to those who asked him. It was at Eastview that he took his Missionary Oath on the 23rd June 1951 followed by ordination to the priesthood on the 27th January 1952.
After a family holiday, Fr. Renaud Perron left for Africa going via London where he followed the dreaded "British Way of Life" course. He arrived in Tanzania or more precisely in the Diocese of Mbeya at the end of February 1953. He was to spend his 18 years of Missionary life in Africa here.  
Renaud got down to learning the local language but he really did not have a gift for languages. He served as curate in the parishes of Mbeya, Chunya, and Mkulwe and as Parish Priest in Ipinda and Mlowo before returning to Canada for a well-earned rest in 1959. Regarding his first term of mission, his Regional Superior said, "I am happy with the work that Fr. Perron has done in the Diocese. He had made a big effort to improve his knowledge of the local language and he has been zealous in his apostolic work."
Fr. Perron returned to Mbeya Diocese at the end of January 1960. He was appointed Parish Priest of Chunya. Six years later, in 1966 and at this own request, he returned to Quebec for some rest and some spiritual renewal. In July he took up an appointment to the Brothers' Training Centre in Lennoxville as a teacher of English and for missionary promotion work in the large Sherbrooke region. Some months later, he felt the need to go to Montreal to study Pastoral Theology. He did the Long Retreat at Villa Cavalletti in September 1967 before returning to Mbeya in early 1968. He served as curate in Irambo and Vwawa. He wrote to his parents and benefactors, "Every Sunday, I go to a different village to teach catechism, prepare children for 1st Holy Communion and celebrate the sacraments. At other times, I am occupied with different types of maintenance work. I am in the process of building two churches and with the help of the Christians of the parish, I am repairing a road which was in a very poor condition and which will allow us to move around even during the rainy season.  When I can take a day off, I go to Mbeya to play a round of golf. Sometimes, I would like to write articles for some magazines but I do not dare because I am not sure of my scholarship and abilities. However, when I see all that is written and not read, I would have a good chance not to be noticed but I would have my name in the index at the end page."
Renaud returned to Canada definitively in 1970. He wanted to do pastoral work in the Diocese of Sherbrooke. He did not want to go back to Africa and he gave the following reasons, "I am sorry that the White Fathers have not kept the rule of three in their missions in Africa. Furthermore, I believe that they have accomplished their mission of establishing an African clergy and to pass on to them the responsibility for the Church in Africa. I am not leaving with bitterness but with a sense of accomplishment. I will continue to love Africa and the missions and to help them in another way. Now, I am returning to my home diocese and I want to carry on and continue the development of my priestly life. Since my return, I have only feelings of gratitude for the goodness of the Lord."
In the Diocese of Sherbrooke, Renaud began as curate in the Parish of St-Jean-Baptiste followed by a spell as a chaplain in Waterville in a secondary school for girls, a retirement home and a convent for religious sisters. He then served as curate in Disraeli before becoming Parish Priest of St-Adrien and Saint-Isidore d'Aukland.
Fr. Perron followed a spiritual and academic renewal course for French speaking priests at Pierrefonds in the North West part of Montreal Island in 1984.
After following this intensive course of 10 weeks which did him a lot of good, Fr. Perron, while still remaining attached to the White Fathers' community at Sherbrooke, took up residence in his old family home to keep his sick brother company.  He continued to do occasional pastoral work and participated regularly at meetings of the Knights of Columbus who made him an Honorary Life Member.
After his brother died in 2004 and the sale of the family home, Renaud joined the Missionary of Africa community in Sherbrooke. It was here according to his own words that he became 'gardener of the forest' In fact for a number of years, he plunged into our little plantation in his redoubtable 'Kubota' utility jeep to uproot the stumps of trees found there. It was risky and perilous work that he did on a daily basis even if in recent years he lacked the necessary strength to do all he wanted.
In the last months of his life, Renaud felt that his strength was diminishing. He fell a number of times in the woods and even in his room. He needed constant supervision day and night. On the 19th December 2017, he was brought to St. Joseph's Nursing Home in order to receive more appropriate care. He died there on the 22nd February 2018.
The Funeral Mass took place in the presence of his body in the Chapel of the Missionaries of Africa in Sherbrooke on the 2nd March 2018. He was buried in the family plot in St-Michel cemetery in Sherbrooke.
Now Fr. Renaud Perron is close to the Lord whom he had proclaimed and served in Africa and Quebec. May God grant him the eternal happiness promised to his faithful servants.
Michel Carbonneau, M.Afr.