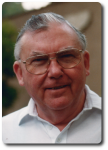 Tom was born in Newry, Co. Down, Ireland on the 3rd June 1931. He was the eldest child in a deeply Catholic family of five children, three sisters and two brothers. Tom attended the Abbey School run by the Irish Christian Brothers in Newry from 1942 to 1946 and obtained the Junior Certificate of Education. He left school and worked for a few years as (among other things) in a Betting office. He was to retain a lifelong interest in horses. However, the Lord was calling him and he applied to join the White Fathers. As the Society had no house in Ireland, he went to the Junior Seminary of the Society at the Priory in Bishop's Waltham, England for a year. He studied Philosophy in Broome Hall near Dorking from 1951 to 1953. On the 7th September 1953, he took the habit of the Society in's Heerenberg, Netherlands. He continued his theological studies there and he took his Missionary Oath on the 2nd July 1957. As was the custom of the time, he spent his final year of Theology in Monteviot, Scotland. However, there was a break in tradition in that he was ordained to the priesthood with Fr. Eugene Lewis in Cavan Cathedral on the 7th May 1958. The Society had opened a Philosophy House for British and Irish candidates in 1954. It was in a rather remote part of the country and it was felt that this would be a good opportunity to make the Society better known.
Those in charge of Tom's training spoke of his organising talents, strong will but obedient, a solid piety based on profound convictions, a sound judgement, very good in community, laughing easily and makes people laugh. They also spoke of Tom as being a conscientious and active worker in fact inclined to overwork. All the reports approved of his admission to the Society and priesthood. Tom himself often remarked on the extraordinary place 's Heerenberg was in the post war years. It was an English speaking Scholasticate housing English, Scots, Irish, Germans, Dutch, Belgians, Canadians and the occasional brave Frenchman! It was a real test of post war reconciliation, which largely succeeded.
Tom's first appointment was to Ireland. The opening of Blacklion meant that there was a possibility of promoting the White Father missions in Ireland. Tom often spoke of visiting schools and parishes where he gave talks, slide shows and films about Africa. He spoke of damp beds in parochial houses and the difficulties in finding some places. In 1963, he was appointed to Rome to study Canon Law at the Gregorian University. It was a tumultuous time in the Church as Vatican II was in full swing. He was not always happy with the changes but remarked later on in 1966 "if all the changes result in better priests so much to the good… I say this having had a quick look around at what has been built up over the years. It required great men to do it even if one looks no farther than the seminary (Kipalapala) itself." He graduated from the Gregorian in 1965 with a Licentiate in Canon Law.
Tom was appointed to Tanzania in September 1965. He went to Kipalapala to study Swahili at the Society's language centre close to the Major Seminary. He did not find it easy. He was also asked to teach Canon Law during the absence of the redoubtable Fr. Gerry Taylor. Even though he was qualified to teach Canon Law, a frantic search went on to find a replacement for Fr. Taylor. In the end, there were too many Canon Lawyers, Tom was dispatched to Mbeya Diocese, and the other spare canonist was assigned to teach Dogma, a rather neat WF solution.
Tom spent some time in Mkulwe Parish before receiving an appointment as Secretary to the newly appointed Bishop of Mbeya, James Sangu. As Bishop Sangu travelled a good deal outside Africa, Tom was frequently asked to replace him with full delegate status at meetings of the Bishops' Conference. This, plus the fact that he had to continue to run the Bishop's office and deal with various emergencies, put a great deal of strain on him. In fact, by 1969, he had run out of steam and Fr. Tom Dooley (+1988) who was the Adjoint Secretary General of the Society, suggested he return home for a full medical check up and a good rest. He returned to Ireland in 1969.
Tom had a thorough medical check up. Talking of the Doctor, He remarked that, "from head to toe he covered everything – and I do mean everything" The medical tests revealed nothing serious although as Tom wryly remarked "When I said that I had been going through about 50 cigarettes a day in Mbeya , he almost fell out of his chair." (He stopped smoking altogether soon after this). The recommendation of the Doctor was that he needed a good rest and should avoid returning to the same type of work situation. Tom himself in a letter to Tom Dooley remarked, "I suppose there is hardly one single reason, rather a multitude of reasons all piling in together. Maybe the work in itself, its responsibility and my own stupid mentality of imagining that I must do everything myself if no one else is going to do it." In the end, Tom was appointed to Ireland for Missionary Promotion work. He did an excellent job and was in charge of the Newsletter, Literature, organising Mission Appeals and secretarial work for the Provincial. His most successful initiative was to publish a desk diary and send it to all bishops and clergy in Ireland. He did not charge anything but suggested that if there were any surplus Mass Stipends they would be of enormous benefit to the African Church. The result was staggering and at its peak up to €800,000 euro a year was being distributed to the Society and many dioceses in Africa.
Tom's next big challenge was to take on the job of Provincial Treasurer in November 1987 on a temporary basis. It was very much of an emergency as good relations between the Bursar's office and the confreres needed restoring. When the new Provincial took office in July 1988, he invited Tom to continue as Provincial Treasurer, which he did with his usual zeal and efficiency.
Most of Tom's priestly life was spent in Ireland. He was fiercely loyal to the Society but could be very critical of it at the same time. He suffered from a fear of heights, which meant that performing any public liturgy was almost impossible. It was a big handicap, particularly so, as when he did celebrate a liturgy it was always well prepared and thoughtful. He enjoyed the love and support of his family and friends who were always very close to him. For them, he was also mentor and advisor and a well beloved brother, uncle and granduncle and friend.
Tom's health slowly declined over the years. He was in continual pain but he continued as best he could in the Promotion Office dealing with the correspondence and in particular with the proof reading of the Desk Diary.
In May 2016, Tom suffered a massive stroke. A member of the staff went to check on him as he had not appeared for breakfast and found him on the floor of his room. He was brought to Tallaght Hospital and the scans revealed a massive brain injury and it was just a matter of time. He died on the morning of June 5th 2016. The funeral Mass took place on the 8th June in the chapel of our house in Templeogue. The principal celebrant was the Bishop Emeritus of Ardagh and Clonmacnoise, Colm O'Reilly who knew Tom well from his time in Longford. In an email on being informed of Tom's death, Bishop Colm wrote, "We held Tom in highest regard; during his period here he was well regarded not only by the priests but by the neighbours." Tom was buried in the White Fathers' plot in Bohernabreena Cemetery in the foothills of the Dublin Mountains. May he rest in peace.
Ian Buckmaster, M.Afr.
and Confreres in Templeogue
Petit Echo nr. 1078