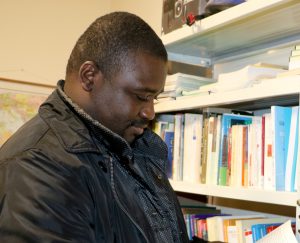 Victor Frankl's, Man's Search for Meaning is a good starting point for our reflection. Without delving into the details of the book, the author, a holocaust survivor and a psychiatrist, puts forward the message that we are all engaged in a search for meaning. This search involves the longing for fulfilment and to belong. Peace is the result of these processes. Our resilience and quality of life depend on whether or not we find "a logos"-a meaning to our existence. It is also a common
experience that the newly initiated either learns gracefully or harshly that as soon as one hits one's goal, one is thrust back on the road, searching for a bigger and better horizon: in search for meaning. This is a reality we all share regardless of our origin, age, sexual identity and social status. We may feel at home here remembering two lessons from Dr. Spencer Johnson's classical, funny yet serious book, Who Moved My Cheese:  "They keep moving the cheese" and " keep moving with the cheese." It is rare to meet people not seeking this meaning in life whether they are aware of it or not; whether using principled or unprincipled means. Finding one's meaning in life brings about fulfilment.
We want to belong: belong to a social body, a place we call home. This can be family, community, country, the world or even the universe. Feeling at home with ourselves, reaching our potential and fulfilment depends much on the feeling of being at home on all these levels. Yet we  soon come to realize that despite the fact that we all share the same longings and even sometimes the same values, we can only succeed in making it happen with commitment, friction and a spirit of dialogue and listening. A sense of belonging brings or contributes to our self-realization. From these two points, we can conclude that we are all migrants in search of meaning and peace.
The search for peace of many men and women, young and old, also involves a longing for a peaceful place to live as the Pope notes in his message for the World Day of Peace in 2018. This message invites us to contemplate four important milestones. The first action is an invitation to contemplate: contemplate our world and what is unfolding around us, near or far in our globalized village. Contemplate how far we may be drifting away from the dream of a common home. But in an equal and even deeper way, we can contemplate how the Holy Spirit is working in the hearts of men and women of our own time to make this dream and longing, not an utopia but a reality. Big roadblocks, such as past historical troubles, socio-economic injustices, imperialism, divergent worldviews and integration, can sometimes contribute to our inability or unwillingness to appreciate, welcome, and accept diversity. This can range from personal, cultural, political diversity to religious differences. The expressions of these blockages are fear, xenophobia, racism, nationalism, sectarianism. Fear of difference may also be the root cause underlying all these issues. The Pope remarks that this fear is often sadly used by politicians for their own political gains. We are invited to consider the invitation to welcome, protect, promote and integrate.
If the Pope's message is an invitation to welcome migrants and give them a chance, its central four points are relevant for all of us (migrants in life) to contemplate: welcoming, protecting, promoting and integrating each other in our search for meaning and be able to benefit from the treasures each one brings.
Traditionally every New Year, we dream and make resolutions about what we want to live in the course of the next 360 or so days. In addition, this is a special year for us: the celebration of the 150 years of the Lavigerie family. We may start this Jubilee Year by contemplating and understanding the principal message of the Pope's letter and find some echoes of it in the key texts of our last General Chapter on Community Life and The Mission. Firstly, contemplating the world, we also contemplate our multicultural communities that are called to be home for each of us (cf. CL, 40; 2016 Capitular Acts p.22, 2. Community life: Discovery). Secondly, called to " welcome, protect, promote and integrate", we live this as apostles living the Kingdom of God among ourselves and sent to others to be promoters (seeds) of integration, encounter between peoples and cultures (CL, 35; 2016 Capitular Acts p.26, 3. Mission: Dream).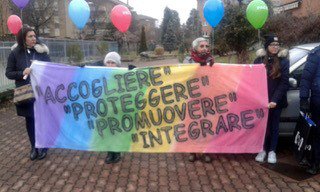 For the past 40 years, in Treviglio (Bergamo) Italy, a march for peace organized by the local Christian community starts from our community house. The participants are not in the thousands, but people who brave the cold weather to show their commitment to peace in the world. This year, I happened to participate in the march that finished with a short address from the mayor of the city and the celebration of the Eucharist. What struck my attention among other many beautiful things was the message in a classroom where we stopped to listen to the sharing of two migrants. I finish my reflection here with that message:
Today we build bridges
Today is the moment to start believing strongly in building bridges
To be able to change,
To take your courage in your hands
Now you are the one to build the future
Justice, liberty, I care and respect
Think about it, you're not alone
Others are ready to sweat to
Build bridges of unity
Bridges that unite all peoples
What is your dream and your mission?
Shall we return to the dance?
Gaétan Tiendrébéogo
Books and article mentioned:
Viktor Frankl, Découvrir un sens à sa vie, 1988

Spencer Johnson, Qui a piqué mon fromage ? 1998

Les Actes capitulaires du Chapitre général de 2016

Pape François, Les migrants et les réfugiés : des hommes et des femmes en quête de paix, message de la 51ème Journée mondiale de la Paix, 2018.