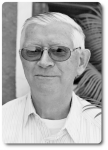 Jan was born in Eindhoven on the 10th November 1934. He followed the usual formation programme for Dutch candidates and studied at Sterksel and St. Charles near Boxtel in the Netherlands before going to Alexandria Bay, U.S.A in September 1955 for the novitiate. He studied Theology in Eastview near Ottawa, Canada. He took his Missionary Oath there on the 20th June 1959. He was ordained priest in Tilburg on the 2nd February 1960. Then it was off to Rome to study Dogmatic Theology in September 1960. He obtained his Licentiate in June 1962 and then did the Pastoral session in Totteridge in July 1962 before finally leaving for Africa in February 1963.
Jan had a sound and practical judgment and a pleasant disposition. He was a hard and steady worker both accurate and reliable. He preferred to remain in the background but always ready to render a service. When unexpected matters arose, he could become flustered and a little nervous, which could give the impression that he was unsure of himself.
On 19th February 1963, Jan left for Tanzania. He went to Kibara Parish which, at that time, was part of the Diocese of Mwanza. He learnt the local language and culture and got some pastoral experience. In September 1964, he moved to Kipalapala Major Seminary to teach Dogmatic Theology. 130 students were expected and there was a staff of 9 White Fathers of various nationalities and one Tanzanian diocesan priest. In 1967, the Government put agriculture on the national school curriculum, and several seminarians started to cultivate a patch of land or raise chickens. That year, 4 Tanzanian diocesan priests joined the staff, one of them as Rector. There were also priests from some other congregations. This meant fewer White Fathers were needed and Jan could return to parish work.
Jan returned to Mwanza Diocese in January 1968. He was appointed to the island parish of Nansio. He wrote: «Quite a change from the well-regulated quiet school-life to a life full of variety and unforeseen happenings in the parish.» In April 1971, he returned to Kibara, where he had started in 1963. It was an extensive parish with 17 outstations and he could cover up to 300 km a week by motorbike. There were 22 primary schools, and local men and women volunteers taught the religion periods.
In November 1973, a storm in the evening tore off the roof of the parish church, which had been built only five years previously, and deposited it 25 metres away. As the sacristy was lower, it remained dry. Over a strip of 18 kms, many houses lost their roofs. The next morning, many parishioners came to help with the propping-up of the 9 church rafters. An additional problem was that, for six months, no corrugated sheets or cement was available!
In 1976, Fr. Dekkers moved to Buhingo, first as Curate and then, in 1977, as Parish Priest. He began to get interested in the training of catechists especially those in charge of outstations. In February 1984, he moved to Magu as Parish Priest. He was elected to the White Father Regional Council of Tanzania as the representative of the confreres of Mwanza Diocese.
In November 1992, he, along with two other confreres, was appointed to Geita Diocese to start a new parish in Bukoli. In order to get acquainted with the people of the diocese, he visited all the parishes! The Bukoli parishioners were happy to receive them, and Jan liked it there. He wrote in August 1993, «We have a good house community, for me it is the first time in all my 30 years of priesthood that I live and work with confreres younger than myself».
Gold mining was an important activity in the Parish. This drew many people from other regions and the parishioners were from various ethnic backgrounds. One surprising consequence was that the priests regularly found gold nuggets on the collection plate! Jan wrote in February 1995, without giving further details, «Our new parish is making progress; fellowship is growing».
In November 1999, in fact on his 65th birthday, Jan began a new assignment: He became Director of the Catechists Training School at Bukumbi in what is now the Archdiocese of Mwanza. Bukumbi was a historical place in White Father history. It was the first parish in Tanzania, erected in 1883 and covering an area that included present day Burundi. In the little grass covered church three bishops were ordained for service in East Africa. Now Jan found a compound that boasted a hospital with three doctors and 190 beds, a Nursing and Mid-Wives Training School, a secondary school for girls, and a Catechists Training Centre that had been started in 1957. The catechists' course lasted for nearly 11 months and in 1999, Jan started with 24 families and eight sisters from six dioceses. The catechists' course covered subjects such as the Bible, Church History, Swahili, Pastoral work and Sociology. The wives got instruction in religious knowledge, cooking, hygiene, knitting and childcare. If it was possible, each woman received a second hand sewing machine and they could take it home with them at the end of the course. Each house had a vegetable garden and a plot for maize and rice. There were seven teachers both men and women, and one of them looked after the kindergarten. Naturally babies arrived during the year; there were 11 births in 2011. In the presbytery, Jan lived with two other confreres who worked in the Parish. Another confrere worked, with the help of local people, at synchronizing soundtracks on video tapes into Swahili. They could be bought at the centre for use in the villages.
On the 16th November 2008, Jan wrote, «I think it is important work; we increasingly need more good Catechists, for their work is still the least indispensable to the church. It is a major asset that they come with their wives and little children, so that the whole family receives a formation. It is a pleasure to see what progress they make». After his Golden Jubilee of Oath, he wrote on the 25th June 2009, «I am just carrying-on being a happy WF.» In July of 2010 the Centre welcomed 120 catechists from Mwanza Archdiocese for three days of study and prayer. Lodging and feeding them took quite a bit of organizing.
On the 3rd September 2012 Jan handed over his job to a diocesan priest. He stayed on and assisted in Bukumbi parish. He returned to the Netherlands for good on the 7th July 2013. In saying good-bye, he told the Provincial, Charles Obanya, "I have found fulfillment and joy in the various appointments and work throughout the years. I am going back with a sense of satisfaction». Fr. Charles thanked him «for the many years of dedicated service in Africa and for your sense of humour.»
Jan moved to Heythuysen in August 2013. He began to develop symptoms of the feared illness of the elderly. During the course of 2014, he began to need special care. He died peacefully in his room on the 29th June 2017. The characteristic of Jesus which Jan highlighted in his life was: «Be merciful, even as your Father is merciful». Lk.6, 36.
Together with relatives and friends we buried him in our St. Charles cemetery on the 5th July 2017.
Marien van den Eijnden, M.Afr.