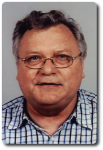 Jan was born in Eindhoven on the15th February 1938. He followed, more or less, the usual formation programme of Dutch White Fathers at that time and studied in Sterksel, Santpoort, Boechout in Belgium, St, Charles near Boxtel, Dorking in England (Novitiate) and finally his theological studies in Heverlee. It was there that he took his Missionary Oath on the 28th June 1964 followed by ordination to the priesthood at Roosendaal on the 3rd July 1965.
Jan had a sound judgement, was a steady worker, a pleasant talker, good-humoured, and always ready to render a service. He was of a nervous disposition; he could seem to be lacking confidence, or just the opposite, of being overconfident. He had artistic inclinations loving classical music, plants and gardening, and travelling to visit particular towns and churches. He recorded extensive accounts of these trips.
On 19th December 1965, he left for Tanzania. He studied the language and culture at the Language and Cultural Centre of Kipalapala. He took motor-bike lessons on the football field but after a near miss with a goal post, he abandoned the idea. Later on, he used a donkey called "Rosa" for his safaris.
In July 1966, he arrived in the largest parish of Sumbawanga Diocese called Chala where nearly all inhabitants were Catholic. They were spread out over 43 church-villages. He wrote on 10th August 1966: "I am happy here … Fortunately we have a good community." In addition to the regular pastoral work he was the house-bursar, and in charge of youth work. In 1967, he moved to Matai and then to Ulumi in 1969. In 1973, we find him in Karema on the shore of Lake Tanganyika. This was a historical place: the first White Fathers established themselves here in 1885 and a Dr. Atiman worked with them. Jan wrote on the 24th September 1973, "Karema is not popular among the WF… the population is open, but difficult… The other day someone stood up in the Parish Council saying bluntly that they would like to see the back of us." It was very remote, a very poor road, inaccessible in the rainy-season. An old bus might come once a week and the lake steamer had been under repair for nearly two years. Moreover, Jan was worried about his sick Mother.
It became too much; on the 25th February 1974, he went for sick-leave. His Regional Superior wrote on the 23rd February 1974, "He has always been a first class missionary, and very zealous … He has always been too tense; he needs more self-confidence, and ways to relax."
Jan spent some time in the USA in May 1974 promoting the Missions and fund raising for Mission-Transport-Action (MIVA). His superior wrote, "One likes him, and he is doing quite well." Jan also wrote at the end of May 1974: "Time enough to forget the difficulties in Karema … Impossible to banish Tanzania from my thoughts."
On 6th March 1975, he returned to Tanzania to work with and later take-over from Gerard Karel (+ 1985) as chaplain of Bugando Hospital (750 beds) in Mwanza on Lake Victoria. He followed a three month course in "Pastoral Counselling of the Sick," at the beginning of November 1976.The course had been launched in 1972 at the Lutheran Hospital in Moshi, to help pastors learn how to interact with the sick, and to be for them a sign of hope and comfort.
It was led by 2 Lutheran pastors  and an Anglican priest. There were 2 Protestant and 2 Catholic students; Jan was the only European. Jan wrote in January 1976, "An ecumenical approach, and a totally Tanzanian context."
Jan moved to Kigoma in August 1982 to become chaplain to the Regional Hospital. However, the pressure was too much and his diabetes got worse. In August 1983, he had to return to the Netherlands for sick leave. It was decided that he would stay there. He joined the WF community in Breda, and from there visited relatives of confreres working in Africa using public-transport only. Several times a year, he acted as chaplain for holidays or pilgrimages for the sick; he met many sick, handicapped, and their volunteer caregivers. He was impressed by those volunteers, who sacrificed their holidays for that demanding work.
Jan moved to the WF community in 's-Hertogenbosch in June 1987 for the same work. On 15th November 1987 he became the Chaplain of the Nursing-home "Oosterhof." All his life he wanted an adapted and with-care-executed Liturgy; here he devoted himself to bringing it even closer to the participants.
At his Silver Jubilee in 1990, he wrote, "For 25 years, I have been privileged to celebrate the Eucharist in Jesus' name; repeating his words, pronouncing or singing, 'A new and eternal Covenant' in Gods infinite love. For 25 years, I have been privileged to experience this bond with/in/through people, young and old, sick and healthy, rich and poor, close-by and far-away, in Tanzania and the Netherlands. For 25 years I have been privileged to being grateful for the experiences of friendship and warm-heartedness."
On the 1st February 1998, the Bishop granted Jan an honourable discharge, thanking him for "the enthusiastic and inspiring manner in which you… devoted yourself …" In January 1999, he moved to Heythuysen. He was grateful for the care he received there. He organised afternoons for those who wished to watch a DVD together. He became a member of the Liturgical Committee. Being quite frank, he was a member of the Residents' Council for years. Before the building activities, he catalogued all issues of Africana, which were transported to Dongen. When the building was finished he selected the more striking items, arranging them in 3 display-cupboards in the chapel-corridor. On the walls there were pen drawings of Tanzanians by our confrere Lambert Sep. For relaxation he listened to classical music.
In 2010, Jan had this to say about himself, "My outside has a good façade, but my inside is monument-preservation!" In August he needed three bypasses. He gave up celebrating the Eucharist at the churches of Leveroy and Nederweert. At the beginning of 2011, he started photocopying a (shortened) chapter of a spiritual writer on an A4 sheet (recto verso) for the monthly recollection of the residents. He took one book a year, and continued until the end of 2015. At the end of 2014, he discontinued presiding the Eucharist in our chapel, because walking had become increasingly troublesome. On 14th October 2017, he took ill rather suddenly and he had to be hospitalised in Weert. He died there peacefully on the 23rd October 2017. Together with relatives and friends we buried him in our St. Charles Cemetery in Heythuysen on the 27th October 2017.
The characteristic of Jesus which Jan highlighted in his life was, as he himself once said that one may forget all about me, except that I lived and worked by the words, "rejoice that your names are written in heaven" (Lk 10,20). He wrote in June 2017, "The Lord says, I am the resurrection and life.' All who believe in me (i.e. give their heart) will live for-ever."
Marien  van den Eijnden, M.Afr.