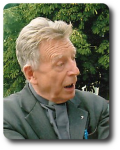 Maurice was born on the 22nd October 1925 in Lille where his parents were in business. He was the only boy in a family of four children. It was during his secondary schooling, at Notre Dame des Dunes at Dunkirk and at the College Jeanne d'Arc in Lille that saw the first glimmering of his missionary vocation, which matured thanks to his scouting activities and the testimony of Charles de Foucauld revealed in the book by René Bazin.  
Maurice was barely seventeen when he passed his Baccalaureate exam and then entered the Major Seminary of Lille to study Philosophy (1942-1944) and a year of Theology (1944-1945). He began his Novitiate on the 20th November 1945 at Maison-Carrée near Algiers. Afterwards, he went to Thibar in Tunisia to complete his theological studies. There, he took his Missionary Oath on the 29th June 1948 and was ordained priest on the 1st February 1949. His professors noted his artistic gifts, his love of flowers, his taste for studies and his methodical and energetic side. He was generous but inclined to be a bit rigid.
Fr. Borrmans was appointed to North Africa in October 1949. He inaugurated the new house in La Manouba in the suburbs of Tunis where he studied Arabic and Islamology over a period of two years. At the end of June 1951, he went to Algiers to prepare a Licentiate in Psychology. He spent the first year at rue Ben Cheneb at the entrance to the Kasbah where the confreres helped the local people. He moved to the Regional House on rue du Jasmin for his second year. He was seen to be a tenacious worker and keen to build a network of long-lasting friendly relationships notably with Mohammed Arkoum with whom he published "L'islam, religion et société".
Maurice was appointed teacher at Manouba in June 1953. He taught Islamology and was a rigorous grammarian in teaching Arabic. Very quickly, he became interested in Muslim Law with a view to preparing a thesis. He was ready to offer his services outside the house and ran a youth club for the children of La Manouba and was director of a holiday camp for children during the summer. From 1958, he spent two hours weekly teaching Arabic at the Scholasticate at Carthage.
Maurice did his Long Retreat in Rome in September/October 1963. It was a time of spiritual renewal for him during which he questioned himself on how to be a "pilgrim of God and an explorer of the faith" and by meeting like-minded people asking themselves the same questions. Maurice had already integrated certain spiritual perspectives of Louis Massignon, his predecessor in the area of Islamic-Christian dialogue. This is borne out in the book published in May 2016, "Prier 15 jours avec Louis Massignon".
In March 1960, La Manouba became the "Institut Pontifical d'Études Orientales" (IPEO). However at the beginning of summer 1964, it was forced to move and eventually established itself in Rome in October 1964. Maurice spared no effort in making sure that the library was transferred safely from Tunis to Marseille. The Institute now became known as the Institute Pontifical d'Ètudes Arabes (IPEA) and moved on a more permanent basis to the Apollinaire Palace near Piazza Navona in 1966. Maurice continued to teach at the Institute but he also taught at the Pontifical Urbaniana University. He was also in contact with Italians interested in the oriental scene.
Maurice undertook a study trip to North Africa from April to September 1966 in order to prepare his doctoral thesis. He was awarded his Ph.D. at the Sorbonne, Paris on the 9th March 1971. Its title was "Statut personnel et Famille au Maghreb de 1940 à nos jours." It was accompanied by a supplementary thesis, "Documents sur la Famille au Maghreb." He quickly became a consulter for the Secretariat for Non-Christian Religions which would eventually become the Pontifical Council for Interreligious Dialogue. With this in mind, he published "Guidelines for a dialogue between Christians and Muslims" in April 1981.This book would be translated into 6 languages including Arabic and Turkish and invites the reader to "undertake the impossible and accept the provisional."
In 1975, Fr. Borrmans was one of the founders of the annual review "Islamochristiana." He served either as its director or chief editor up until 2004. He contributed thoughtful articles and many book reviews. In addition, he was invited to participate actively, through extensive communications, in many Muslim-Christian meetings in Europe, the Maghreb and the Middle East.
In 1980, Maurice was asked to spend three years in the Gulf States. It was an opportunity to free himself from programmed commitments. He left for Bahrain in October 1981. He worked with various Christian communities speaking many different languages and which formed part of the parish of the Sacred Heart of Manamah. He widened his circle of relationships and his knowledge of the Mashriq (area roughly comprised of Lebanon, Palestine, Syria and Iraq). On the 1st February 1984, he resumed his position at the Institute which had changed its name once again and was now known as Pontificio Istituto di Studi Arabi e d'Islamistica (PISAI).
When Pope John-Paul II addressed young Muslim people in Casablanca in 1985, Maurice was one of the masterminds of the speech notably the beautiful prayer at the end. More than 10 years later, he was appointed as one of the experts for the 1st Synod of African Bishops which took place in Rome from 10th April to 8th May 1994.
In September 1996, Maurice published "Jésus et les musulmans d'aujourd'hui" which was translated into Italian and which was published in a revised edition in 2005. His capacity for work was legendry. He was always doing something so that people were often reluctant to disturb him. His passionate commitment to dialogue in truth was well recognized  as was demonstrated when he received the National Order of Merit of France in 1990 and then when he was presented with a collection of articles offered by his colleagues and friends on the occasion of his 70th birthday. At this ceremony, Cardinal Francis Arinze said, "Fr. Maurice Borrmans is a recognized and appreciated expert at international level in the area if Islamic studies. He has participated at many symposia and congresses concerning Interreligious Dialogue especially in the area of Islamic-Christian dialogue."
Maurice left the Institute, to which he was very attached, for a very active retirement in December 2004. He continued to live the spirituality of intercession inspired by Louis Massignon. He was much in demand for conferences in France and Italy and continued to publish in order to make known several figures who were involved in the Islamic-Christian dialogue.
In December 2015, the Pontifical Urbaniana University conferred on him the title of Doctor Honoris causa. For the occasion, he wrote a foundational lecture of 26 typewritten pages in which he presented a whole  kaleidoscope of current Christian approaches to Islam entitled "Approches chrétiennes de l'islam".
In September 2017 following an ill-fated fall, our brother Maurice complained of back pain. He was hospitalized in Sainte Foy but lost the use of his legs, suffered moments of confusion and was given oxygen. It was in this state that, on the 19th December 2017, he arrived at our nursing home in Bry sur Marne. He died on the 26th December 2017.
Fr. Bormann's funeral took place in the Parish Church of Bry sur Marne on the 2nd January 2018. It was presided over by Bishop Jean-Marc Aveline, the Auxiliary Bishop of Marseille and President of the Secretariat for Interreligious relations and new religious movements of the French Conference of Bishops. We will not forget the words he spoke about Maurice, "His immense work leaves us with a precious legacy that it is important to collect not only to better understand Islam and to enter into dialogue with Muslims, but also to better express the originality of the Christian faith with the help of both its lungs of the East and the West."  
Present also was Fr. Vincent Feroldi, Director of the National Secretariat for Relations with Muslims and Fr. Diego Sarrió, M.Afr, Dean of Studies at PISAI who gave the homily by invoking the figure of Maurice as researcher, White Father, and the man himself. He concluded his homily by quoting Maurice, "undertake the impossible and accept the provisional." He noted, "Maurice asked everyone to welcome one another, to understand each other, to live and share, to dare and to risk, to dialogue in the presence of God and under his influence, to be converted to him and to be reconciled to one another. With one another, we become challenging witnesses ready to undertake the impossible and accept the provisional. The big question for all of us is: how to share in the dream of God? How to make my life fruitful? This is a question Maurice Borrmans had always asked himself."
We should also note that the Rector of PISAI, Fr. Valentino Cottini, also attended the funeral as well as many former students, White Fathers, White Sisters and others who were keen to take part in this final farewell.
Gérard Demeerseman, M.Afr.