Have an esprit de corps, Lavigerie told us. One of the challenges that faces us in daily life is the mutual sharing of our joys and sorrows. Ah! If were not only united but one; is this not the wish of every human being regarding their social, religious and even civic life? At our level of formation among the Missionaries of Africa, this mutual support was made a reality by a meeting of stagiaires from the Province of Europe and those who accompany them. Six people took part: Georges Jacques (Assistant Provincial with responsibility for stagiaires in the Province of Europe), Bernard Delay (Coordinator for stagiaires in the French Sector) and Jesús Zubiria (Provincial Delegate and Coordinator for stagiaires in the Spanish Sector), Jonas Yamba (2nd year of stage in Spain/Roquetas de Mar), Moses Ariho (1st year of stage in France/Marseille) and Emile Kimembe (1st year of stage in France/Toulouse). The meeting took place in Madrid from the 4th to 6th April 2018.
The meeting took place under three headings; first of all a time for prayer, then a time for sharing, and finally a time for relaxing. Some of the questions we discussed were, what is the impact of the cultures in which we live on our spiritual, social and apostolic life? What have we learnt? How were we welcomed in our Sectors and communities? What are the perspectives for the future? In general, these were the major questions brought up during our meeting. This article will just give a general view. First of all we will speak briefly about our welcome in our communities. Then, we will talk about our discussions and finally we will talk about our time relaxing together.
The welcome in the community
There is a strong and remarkable element when one arrives in the community of Nuestra Senora De Africa: A sense of being welcomed that is almost innate. This warm attitude, this readiness to share missionary experiences, this good sense of humour, this community
joy which was contagious, this esprit de corps during the community services made our stay not only agreeable but also an inspiration on our vocation journey. We could well believe that we were in front of the author of these words, "This is how you will know that you are my disciples, if you have love for one another" (Jn 13, 35). Yes, we have seen and have believed. It would be ungracious not to say a big thank you to all the community.
Our meeting began on the morning of the 4th April with a recollection on the theme of "how to manage my liberty." It was led by Georges Jacques. This time of recollection reminded us of the freedom of Jesus which was inscribed in his obedience to the will of his Father. Since the dawn of humanity, man has had difficulties in managing his freedom. Far from being a poisoned chalice from God to men, it is a big sign of his trust and his love. To be free does not mean doing what I like, but wanting what I do! To be free, is to recognise oneself as a limited being and so make the choice of mutual support while respecting differences. On a personal note, we were reminded that it is at the heart of our limits that we find our liberty. So, recognising them and loving them appears to strengthen us.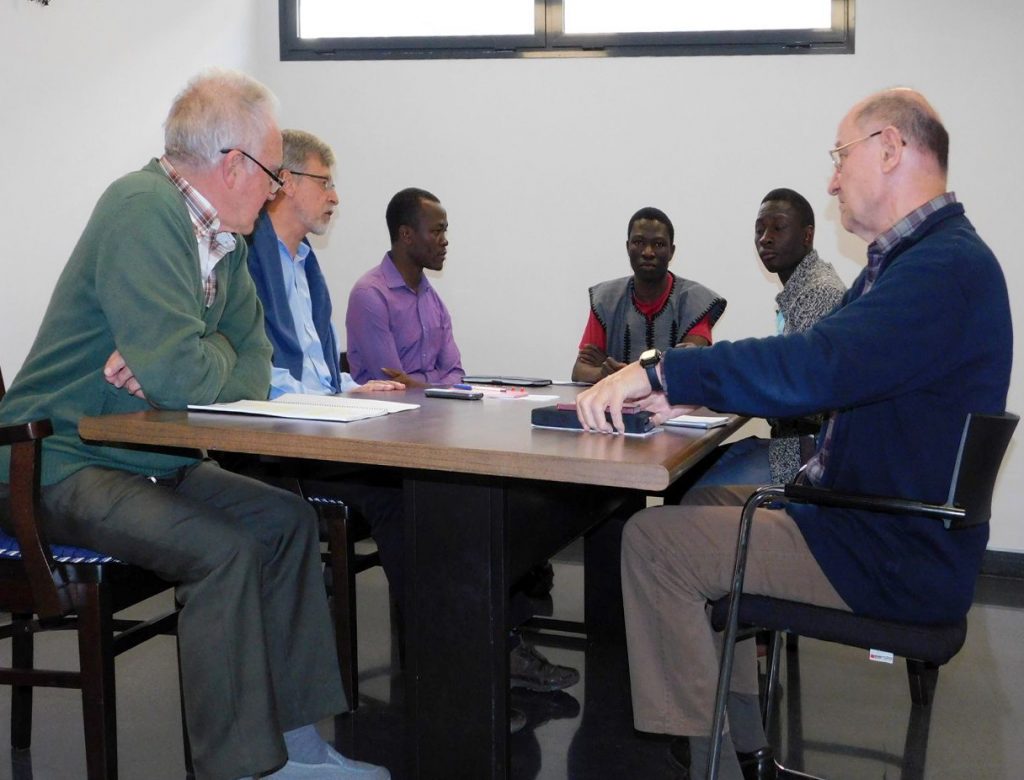 PEP stagiaires' meeting in Madrid with their mentors
The discussions
No time to lose! The afternoon of the same day was dedicated to a general presentation of the French and Spanish Sectors and the European Province and then to sharing about our apostolic experiences which took us up to the afternoon of the 5th April. It was a time of listening to one another, supporting one another and mutual enrichment. This was a very valuable time for us! Is there anything more wonderful that an open, sincere and rich exchanging of views. Does not the time of sharing about the various difficulties due to social, climate and language changes not touch a chord and be an encouragement for some? Certainly we felt very comforted by the sharing our experiences. We also talked about some practical points concerning our formation, for example, the report of the stage, the declaration of intention, the annual retreat, and local holidays.
Our time for relaxation
Down time was not consigned to the dungeons. We had the opportunity to visit Madrid Cathedral, the Royal Palace, Santiago Bernabéu Stadium, home to Real Madrid, and especially the missionary project of Africa Fondación Sur. We gave ourselves a pat on the back for this beautiful time lived together by dining at the Ham Museum!
Visit to the Barnabéu stadium in Madrid
It is said that a joy lived and shared with one's peers becomes more intense, and a difficulty experienced and shared with one's contemporaries is softened. This meeting of stagiaires organised by the European Province on our behalf brought us great joy and satisfaction. We will each remember these experiences because of the riches they brought us. We will remember the trust between us. We will remember the advice of those who accompanied us. We will remember the warm welcome of the community. Everything has not been said, but everything remains etched in our hearts. Did not St. John say, "There are many other things that Jesus did, but if these were to be described individually, I do not think the whole world would contain the books that could be written (Jn 21, 25)? .
Jonas Yamba, Moses Ariho et Emile Kimembe