How do you see Ongoing Formation today?
Ongoing formation has become part and parcel of our two Institutes. I do not know much about the formal Ongoing Formation in the M.Afr way of life, but as for MSOLA, we live through the Noviciate before first vows, the Juniorate before final vows and the Tertianship after about ten years of final vows. Thus, there are three times in which to discover in greater depth, our faith and our commitment to our personal and communal vocation and mission within the world of today. We are also offered a doctrinal year of theological studies. In certain circumstances, we may at some time be offered a sabbatical year. I believe that Ongoing Formation as Religious Missionaries has been and continues to be a necessity in everyone's life.
In fact, if I look at my own life and that of my sisters, I can say that we have to put time, attention and money (books, retreats, sessions, etc.) into this matter.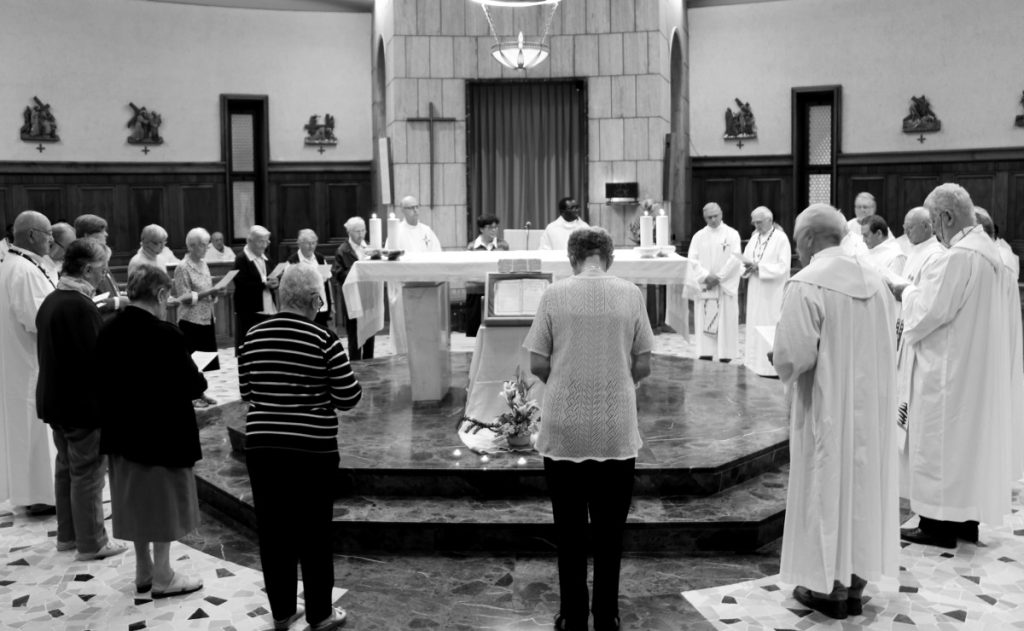 What has changed during the last 40 years?
At the beginning of the 70s, we were into a lot of psychological sessions of various types… group dynamics, PRH, Meyers Briggs, Enneagram etc. It was the time after Vatican II! The search was how to integrate psychology with spirituality. A lot of emphasis was placed on sharing. Some of the resistance – and wisdom – of our elders brought, as a balance, the necessity of more silence and personal space! The 80s brought concerns regarding justice and peace into the focus of adult and pastoral formation, examining the root-causes, contextualisation, conscientisation, see, judge and act, the pastoral circle, and liberation theology. This was followed by a broader involvement in ecological issues, something which the "Greens" had already started earlier on. The 90s propelled us rather quickly into all the new technologies, quantum theology, the interrelatedness, not only of us humans all over the world, but of the whole of the ever- expanding cosmos, the growing awareness of "inter-being" this deeper, spiritual, relatedness of all creation. There was also the importance of creative communal silence, the impact of our thoughts and inner vision, global meditation movements etc. All these are still influencing us today in all aspects of (Ongoing) Formation, including all that has just been mentioned above.
How do you experience the collaboration between the Missionaries of Africa and MSOLA regarding the animation of the formation encounters?
For many years, there have been the sessions in Jerusalem open to MSOLA as participants as well as animators. These were, to my knowledge, always well appreciated! But I have no experience of them. I have only a small experience of Ongoing Formation in our two Societies – the Transition and Seniors formation encounters. We, animators, try patiently to re-name these as "Encounters" but the label "Session" continues to appear… This is a sign that we only shed "old skins" slowly – snakes are much more agile!
I do have some experience of collaborating with the Missionaries of Africa but it is mostly through being "called in" for one thing or the other – or calling on the Missionaries of Africa to help in a parish led by MSOLA or again working in the same field but in different places. The last three years are the first time that I have been engaged so closely with a Missionary of Africa in animating daily sessions over a good number of weeks. This happens at the Generalate of the Missionaries of Africa. They are sessions which previously ran under the auspices of the Missionaries of Africa with a MSOLA sister being called in to animate the Liturgy. This has been changing slowly and we now try to organise the encounters on a more equal footing. This demands an honest sharing of views, thoughts and feelings on a daily basis. It allows each one to contribute the best of themselves. An honest, respectful, forgiving and trusting relationship among the animators will hopefully contribute to an environment in which the participants might find an open space for their journey. Here the participants can slow down and find tools to re-read, investigate new aspects, integrate, and face transitions in their life and older age – to share in small groups or work on their own, being given as much room and freedom as they need to walk at their pace and according to their need. I find it challenging (in the positive sense) and fruitful to work together as woman and man in our complementarity – and so do most of the confreres and sisters.
How could our two Societies concretely improve their lifelong learning/formation policy to achieve a better performance?
This, of course, is an important question! I do believe that we have gone a long way since our beginnings… some skins have been shed, while others are still waiting to be shaken off. This needs continuous attention and effort in both our Societies. It might be helpful to meet each other at different periods of Ongoing Formation, starting from the noviciate onwards. To suggest improvements in a policy for this lifelong learning lies beyond me, as this is the work of those who are responsible for the Ongoing Formation in our two Institutes.
Helga Franke, smnda