Community of Toulouse :
Active Spring at the "Minimes"
Just like Spring, the Toulouse community is waking up with lots of activities to reactivate a flowery life. Perhaps inspired by the Resurrection of the Lord that we have just celebrated with great pomp and circumstance, the memory of the foundation of our Society has reminded us of our spirituality that has enabled us to adhere to the Mission of being All to All. Thus, on May 3, we celebrated in community the end of Emile Kimembe's internship. He arrived safely in his family in Congo DRC on May 6.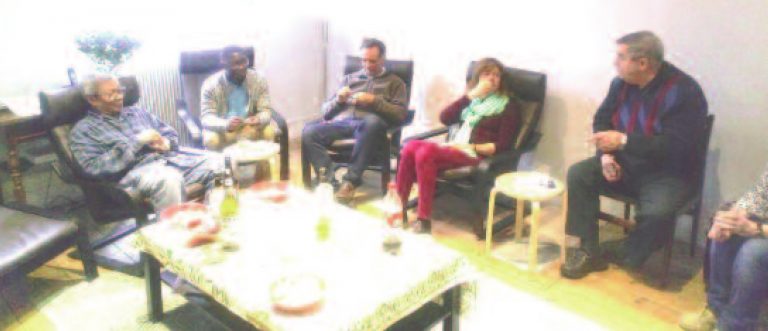 The next day in the evening, we shared a meal with some former White Father students from rue Vélane in Toulouse in the presence of the Provincial Delegate, Patrick Bataille, who trained two of them. There were only three. Together with their spouses and children we were about twenty people.
In their testimonies they expressed the desire for stronger unity among them and close collaboration with the Society of Missionaries of Africa. One of them, Jacques Kampetenga, is a deacon and explained his journey. They are ready to start a group of elders. In any case, their many children are our friends and potential collaborators to support us. It was a very good time.
On Sunday, May 5th, the Church of the Minimes filled up for the installation ceremony of Norbert Mwishabongo as the new parish priest of the Pastoral sector of the Minimes. The Mass was presided over by Hervé Gaignard, the Vicar General, because Bishop Le Gall was unable to attend. Patrick Bataille, our Provincial Delegate, all the collaborating priests of the parish, the Episcopal Vicar of the Deanery, and the National Chaplain of the African and Malagasy Coordination concelebrated Holy Mass.
After the mass there was an aperitif that allowed people to meet each other, then a simple and very convivial meal. The borough mayor was present for the installation and stayed all the time during the meal during which he renewed his commitment as mayor of the district for the responsibility of the Church. He also expressed his desire to collaborate with the new priest and his team.
To close our series of images as part of the organization of activities for our 150th anniversary, Bishop Michael Fitzgerald gave a lecture on "Islamic-Christian Dialogue: the contribution of the Missionaries of Africa and the Sisters of Our Lady of Africa" on May 22 in the Church of the Minims.
Presented by the animator as a man of great openness, Bishop Fitzgerald demonstrated this in welcoming the other. Through his extensive experience in the field of Islamic-Christian dialogue, he has demonstrated that dialogue is possible even in our current context in Toulouse. We thank him for agreeing to come from Liverpool to revive our commitment to " Encounter and Dialogue ". Go well, my Lord.
Simon Gornah, M.Afr. (texte et photos)