One aspect of our missionary life consists of a lot of coming and going, of welcoming and saying goodbye. In between the arrivals and departures, we are called on to build a community based on a simple life style, a fraternal and sharing spirit, a communion of prayer and missionary and apostolic collaboration. This experience takes on a special importance when a young confrere arrives in his place of apostolate after taking his Missionary Oath but it also applies to the confreres welcoming him.
The accompaniment of young confreres begins even before they arrive. Right from the announcement of their appointment to a community and place of apostolate, it is important to welcome him and to tell him we are anxious to make his acquaintance. It would be good to briefly describe the members of the community, the place and the type of apostolate carried out. This will allow the young confrere to share this information with his parents and friends. He is already being made to feel welcome and links are being established. He looks forward to going to his new mission and participating in the life of the community and the apostolate. Moreover, this communication serves as the first step in the inclusion of the young confrere in the parish and the community.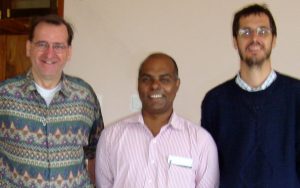 Let us remember that the arrival of a young confrere is going to transform the community. He has his own proper qualities, gifts, strengths, as well as his limits and weaknesses. He is not a new spare part and he will not carry out his apostolate in the same way as his predecessor did.
Welcome of young confreres
How should we welcome and support the newcomer? What are the most important aspects?  
First of all, prepare his room and make him feel welcome right from the start. This means spending some time with him. Let each one speak a little about himself, his life, his family and his apostolate. These meetings are crucial in order to establish ties of friendship and the dynamics of missionary collaboration. They also help community members to take stock of their missionary experiences (community life, prayer, apostolate and its priorities, etc.) and to make the necessary adjustments. Therefore, the welcome and accompaniment of a young confrere gives the community a chance to re-examine and renew its missionary commitments.
This approach is demanding, maybe one should not answer a young confrere's question by saying, "Here, it is not done like that, and you will see why later". I, too, was welcomed and initiated as a young confrere and often felt the need to ask many questions. And sometimes the answer of the «experienced» confrere was simply, "I do not know. I think that by doing things in this way, our missionary witness will be more fruitful." A humble and honest answer without pretension.
How to form a community?
This way of doing things does not happen automatically and the community is invited to take the necessary means to put it into practice and to keep it going. Prayer is the first means because it binds us together in the Lord and unites us. The weekly community meetings are also a help because they aid the community to formulate clearly a community project, which takes into account all the dimensions of our missionary charism, personal and community prayer, community life, the apostolate and its own priorities, relaxation, on-going formation etc. The holding of community council meetings facilitates the sharing of information and fosters trust and mutual esteem. Therefore, it is not a question of solving problems but to build a community and a team. Besides, the best community council meetings are those which take place without anything needing urgent attention or any activities needing to be organised. Such meetings allow a deeper conversation to take place on the different fundamentals of the mission, on the mentality and condition of the people that we serve and on the relationships that we enjoy between ourselves and with our collaborators.
Solidarity plays an important part in our simple way of life. It is not limited to topping up the mutual aid fund; it also includes the readiness to be "bothered" by a confrere who wants to check out some words regarding his new language or who wishes to inquire about some aspect of his apostolate. Of course, a friendly support in times of illness is always welcome. And isn't it nice to hear somebody say, "You look tired, have a rest; I will take your safari?"
My personal reflections
The first years of missionary life often prove to be a foundational experience. They encompass enough information about all dimensions of our life (prayer, contact with people, community life, apostolic life, evangelical counsels, managing solitude, etc.) to allow a good reflection on our missionary experience right from the beginning of our commitment. All the dynamics of commitment and avoidance, of growth and regression are manifested. And as these experiences are still fresh in our minds, it is easier to affirm or to correct them according to personal needs and the needs of the mission. The annual retreat and days of recollection are very beneficial in this personal journey.
Finally, the essential thing is that each one of us be happy in his community as a person and as a missionary so that he may be able to put all his gifts at the service of the mission and that he may grow in fidelity and love with his Lord and the people entrusted to him and with whom he lives.
Jean Lamonde, M.Afr.