For the past three years, the Missionary Sisters of Our Lady of Africa have been working in the coastal region of Kenya, where they are trying to bring young children out of increasing sexual exploitation. Sr Redempta Kabahweza, Ugandan MSOLA, who works especially in the psychosocial support of these children, gives us her testimony.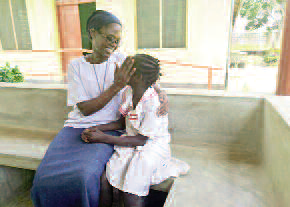 Sr Redempta console, reassure,
gives courage.
Kenya's coast is famous for its beautiful white sandy beaches, palm trees, warm Indian Ocean waters… But these sunny beaches are also a hub for European sex tourism, especially with young miners. A 2006 UNICEF study estimated that approximately 10,000 to 15,000 girls aged 12 to 18 living in coastal Kenya were sexually exploited.
What explains such exploitation of children is the widespread poverty and social acceptance of the phenomenon. Tourism is one of Kenya's most important economic sectors, accounting for 10% of the country's GDP.
In 2015, in response to this situation, the Catholic Church opened a centre in Malindi, Kenya, called "Pope Francis Centre", for victims of this sexual exploitation. There, minors receive the help they need and support to bring the perpetrators to justice. On a daily basis, children as young as three, sometimes boys and girls, report shocking details of the abuse they have suffered, often from relatives.
Sr Redempta, who is the centre's main psycho-sociologist, remembers snatching two 10- and 12-year-old girls from two Italian tourists who had abused them for two years. She describes the trauma during the interview with the older of the two: "I would take her into the meeting room, and once I closed the door, she would start shaking. It was very difficult to prepare her to testify in court because she had to remember all the horrible experiences she had had. »
When we met Sr Redempta, she told us about her constant and difficult struggles, in the face of the deep suffering of the children, the account of the sexual violence and traumatic experiences they had lived, but also how she herself found the inner strength to continue to fight for justice.
Voix d'Afrique. : You are Ugandan. How did you come to Malindi and to the Pope Francis Centre?
Sr Redempta : A few months before my perpetual vows, the bishop of the Catholic diocese of Malindi, Mgr Barbara, contacted our Superior General to ask for his help in the management of the "Pope Francis Center". Certainly, this invitation of the diocese corresponded entirely to one aspect of our charism, which consists in paying special attention to every wounded person, in difficulty, isolated from society. After several consultations, three of us were sent to respond to the urgency of this mission. Personally, I was very enthusiastic to receive this appointment as a psychosociologist just after my perpetual vows. I really wanted to work with the children, and the idea of taking on the role of "counsellor" makes me very happy. It was the first time I was going to practice my "counselling" skills (psychological and social support).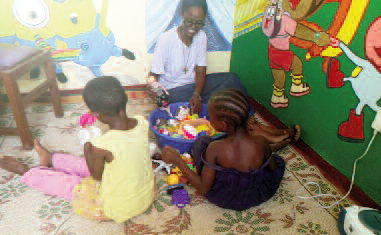 Sr Redempta
plays
with
the two younger
survivors
of sexual abuse.
They're both four years old
.
V.A: How are you doing with the kids?
Sr R. : It is an exciting mission, but it is far from simple. Listen to what they've been through, break your heart. One example among many: when I arrived here, I found a two and a half-year-old girl who had been sexually assaulted several times. How can any sane person rape a baby?
V.A: Are you also traumatized by listening to these children's experiences?
Sr R. : This, of course, affects me, as does everyone who works here. When a child who has been abused is brought to the centre, everyone: social workers, nurses or even the drivers who drive the children here, are really touched and compassion can be seen on every face. Nevertheless, we are working as a team to take a step back from these dramatic situations. Children need our confidence, to relearn trust.
V.A: Of all the people who care for children, you are the one who listens to their traumatic experiences of sexual abuse. How are you coping?
Sr R. : As a professional listener, I seek to restore confidence to these children in situations of psychological suffering. I try to help them reconnect with all that rehumanizes. But listening can take different forms: a child, for example, does not necessarily express himself with words but rather with drawings or with games. One of them, through a male doll, was able to confirm that it was her maternal uncle who had raped her, even though a police statement indicated that she had been involved in a traffic accident in which her private parts were allegedly injured! Her hospital examination confirmed that she had been sexually abused…
Au Centre, les fillettes les plus âgées
s'occupent des plus jeunes.
V.A: In addition to follow-up with these children, do you offer other support?
Sr R. : Because they must be reintegrated into their families after three months at the Centre, I go to their homes to talk to their relatives and assess whether or not bringing the child back to the family constitutes an additional danger for the child. I must also investigate those who harassed them, it is my duty. I also prepare children to testify in court. Because lawyers cannot advance a case until the identification of suspects is confirmed and the children have testified. For example, one of the four-year-old children has already testified in court about the rape she suffered. Unfortunately, later, the clerks called us to tell us that the file was incomplete and that the child had to testify again. I refused, indicating that the child was not ready for a second interview. I firmly believe that someone was paid to make this file disappear.
V.A: What motivates you to continue your work despite the distress you sometimes encounter?
Sr R. : The Bishop of Malindi saw this "crime against humanity" that was rampant in this region and felt that something had to be done. He founded the "Pope Francis Centre", based on the Church's social teaching: "to create a society in which all children live with dignity and in which their rights are protected. "This is the mission of the centre: to help children who are subjected to sexual violence. This goal is addressed to all children, regardless of race, ethnic origin, religious belief or gender, to enable them to achieve their full potential one day. The Missionary Sisters of Our Lady of Africa are very committed to what promotes justice and peace. And because I am also very committed to this mission, I want justice for these children. I feel great joy for every child who can return to their family after months of support. I want to continue to follow them, to make sure they are safe and will no longer be abused. They all trust me to protect them from their aggressors, and I would not want to abandon them for anything in the world. When they call me "Sister" and share with me all their fears from the outside world, it convinces me even more that I can only be there with them and for them.
Sr Huguette Régennass, SMNDA
(Voix d'Afrique nr. 119 – June 2018)