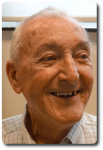 Gaby was born on the 19th July 1935 at Pittem in West Flanders to a farming family of eight children. He followed his secondary school studies in Tielt. In September 1954, he entered the White Fathers at Boechout. At the time, his uncle René (+1964) was working in the Congo. He did his Spiritual Year in Varsenare from 1956 to 1957. He was appointed to Eastview for his theological studies. As was the custom at the time, candidates appointed to Canada left the novitiate early in order to prepare themselves for the long ocean journey and they finished their novitiate in Eastview before beginning their theological studies. However a misinterpreted X-ray required for his Canadian visa prevented him from leaving Varsenare and he only arrived in Eastview in the last days of the novitiate. He took his Missionary Oath in Eastview on the 18th June 1960 and he was ordained priest there on the 28th January 1961. Those in charge of his training saw in him a man of common sense and duty. He was more practical than intellectual, balanced, dedicated and discreet in community. He was gifted for languages and a good sportsman. He was pious without ostentation. He wanted to work in English speaking Africa under an African bishop and asked for an appointment to "Ghana, Nyasaland or Tanganyika. In the end, he was appointed to Uganda.
Gaby arrived in Kalungu, Masaka Diocese in December 1961. Its Bishop, Adrian Kivumbi Ddungu, had been recently appointed in succession to our confrere, Bishop Joseph Kiwanuka who had been appointed Archbishop of Rubaga in December 1960. Some months later, we find Gaby at Villa Maria. He found himself in the middle of a fight between the Government and the Bishops over the control of schools. In 1967, he worked temporarily as bursar in Bukalasa seminary before he returned to Kalungu in January 1968. On the 17th February 1969, he was appointed Parish Priest of Bumangi on the Sese Islands in Lake Victoria. In a letter of January 1969, he proudly declared that all the White Father communities of the Diocese were 'mixed' which meant that there was least one diocesan priest in the community. In June 1977, Fr. Jack Thora was then Regional and the dictatorial regime of Idi Amin was still raging, his 'entry permit' was not renewed as was the case for dozens of other missionaries. He wrote, "The Government is of the opinion that my work can be done by an African," and he continued, "After 16 years of pastoral work in Africa, I feel more African than European and I hope to return to Africa through the back door."
This 'back door' was to be Chad where the White Fathers had just taken over their first parish in December 1977. With the agreement of the Canadian Bishop, Régis Belzille, Gaby went to Doguindi in the Diocese of Moundou. Fr. Dominic Nothomb (+2008) recently arrived from Rwanda was part of the team and took over the running of the Catechetical Centre. Gaby's father died in May 1981, but Gaby did not find out until three weeks later. It was not only the postal service that was not working well, neither were the schools. In fact, the country had no government and Gadhafi's Libya was occupying the north of the country as well as the capital. The country was deeply divided. In this context, Gaby sheltered Colonel Kamougué, a former vice-president of the Ouddeï government, who was seriously wounded and on the run from Hissène Habre (later condemned for human rights abuses by a Special Tribunal in Senegal). After caring for Colonel Kamougué, Gaby helped him to flee to northern Cameroon. This resulted in Gaby being arrested and put in jail in Moundou. He was transferred to N'Djamena, the capital, on the 11th September 1982. He was held for 26 days in a small cell with about 40 other prisoners. He wrote later, "We shared the same ground, the same food, and the same bugs." On the 8th October, he was discreetly expelled via Cameroon. Bishops and lay people, from both Moundou and N'Djamena helped him enormously during these difficult days. Walter Aelvoet testified, "All he did was his duty as a Christian and a priest, by saving from certain death, a man that only yesterday, and for many years, was acclaimed by all the people of the South."
After all that, there was no better way to put Gaby back in the saddle once again than by doing the Session/Retreat in Jerusalem in March 1983. He returned to Belgium and for some months he helped out in the Centre for young people in Varsenare. However, at the beginning of May 1984, he was off back to Africa again, this time to Burkina Faso. He got down to learning Mooré, the language of the Mossi people. At the beginning of 1986, he was appointed to Barsalogo in the Diocese of Kaya where he became Parish Priest in June 1988. He was to remain there over a period 27 years. The parish had 50 or so villages. Gaby attached great importance to the training of responsible lay people. He was also in charge of all the development projects of the Diocese not only emergency aid resulting from drought but also literacy, health, training and community projects. From time to time there was the odd setback because of health problems, a broken hip in 1996 and broken ribs in 2010, but that year ended on a joyful note as he was awarded the "Chevalier de l'Ordre National." On his return from home leave in September 2011, the Bishop asked him to start a new parish from an outstation called Dablo. He continued to receive treatment for skin cancer on his face and his right ear. The new parish had 20 outstations. Thanks to the help he got, the parish was officially opened in March 2014. In the meantime Gaby suffered his first stroke and had to be repatriated to Belgium. Despite his precarious state of health, he returned to Dablo in August 2014. However in December of that year a cracked hip forced a definitive return to Belgium.
After being discharged from hospital in Bruges at the end of February 2015, Gaby joined the Avondrust community in Varsenare. In his wheelchair, he accepted courageously and with a smile his inexorable decline. He tried as far as he could not to be too demanding on the personnel of the home or his confreres. Africa remained the centre of his prayer and his intentions. On Saturday 2nd December 2017, this old warrior yielded up his soul. Fr. Olivier Lompo, Parish Priest of Dablo wrote, "On receiving the sad news, all the churches of Dablo tolled their bells." Luc Kola, PAO Provincial added, "As we say here, a baobab has fallen." Gaby was buried in our cemetery at Varsenare. May this tireless worker now rest in peace.
Jef Vleugels, M.Afr.